Your guides to London
Footprints of London is a London guided walks company with a difference; we're owned by our guides, all our guides are qualified and accredited and all our walks are researched and written by the guides leading them.
Walks by and for those who love London delivered with care, professionalism, insight and enthusiasm, that's the Footprints of London difference.
Staying in London over Easter?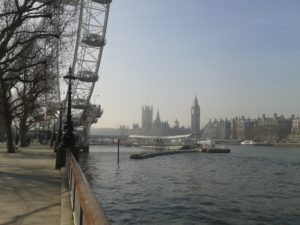 We at Footprints of London towers take the minimum of convincing that London is the best place to be at any time of year.

But it seems to take on a special quality over bank holiday weekends, "kicking back" just a little and approaching the nearest it ever will to a state of serenity as a large part of its population sits out the traffic jams on the nation's motorway network.
All of which makes Easter one of the more ideal weekends of the year to stroll around our great city, care to join us?
We have walks scheduled every day of the Easter bank holiday weekend on an array of subjects: a walk through Westminster covering Winston Churchill, wartime music and women's suffrage; a whistle-stop tour of the history of The City; you can go out and find Bridget Jones; a discovery of the London of H.G. Wells; how the clubs of Soho shaped the rock and pop music scene; discover the hidden alleys and lanes of Hampstead; or find out why Charles Dickens called London his "magic lantern".
Click the links above or check our walks page for more details, we look forward to seeing you for an Easter stroll!
Upcoming walks
Our next 20 guided walks are listed below, for our full schedule of walks please visit our walks page.
Seen a walk you want to go on but can't make the date?  You can choose your own date and time for any of the walks you see on our website by booking it as a private tour.
For a complete listing of all our scheduled walks please visit our walks page