Your guides to London
Footprints of London is a London guided walks company with a difference; we're owned by our guides, all our guides are qualified and accredited and all our walks are researched and written by the guides leading them.
Walks by and for those who love London delivered with care, professionalism, insight and enthusiasm, that's the Footprints of London difference.
The revolution starts here!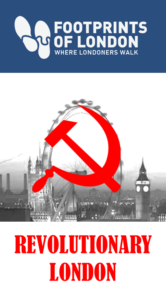 Footprints of London is marking the 100th anniversary of the 1917 Russian Revolution with a series of walks from mid-February into early March commemorating the often pivotal role played by London in key revolts and rebellions.
Our capital city was either centre stage or an influential rehearsal room for a wide variety of revolutionary movements; from the peasants' revolt in the 14th century through the English civil war, gunpowder plot, American war of independence, Gordon riots, French revolution, the overthrow of Tzar Nicholas II and the birth of Communist government in Russia up to the armed struggle for a united Ireland in the late 1990s.
Our guides will retrace the steps of major participants in both domestic and overseas revolts, plotting routes and revealing locations through the city familiar to rebellious luminaries such as Jack Cade, Guy Fawkes, Thomas Paine, Karl Marx and Vladimir Ilyich Lenin.
Check out our walks page and look out for the Revolutionary London logo for this special series of walks.
Upcoming walks
Our next 20 guided walks are listed below, for our full schedule of walks please visit our walks page.
Seen a walk you want to go on but can't make the date?  You can choose your own date and time for any of the walks you see on our website by booking it as a private tour.
For a complete listing of all our scheduled walks please visit our walks page