Your guides to London
Footprints of London is a London guided walks company with a difference; we're owned by our guides, all our guides are qualified and accredited and all our walks are researched and written by the guides leading them.


Walks by and for those who love London delivered with care, professionalism, insight and enthusiasm, that's the Footprints of London difference.
Literary Footprints 2018
The nights are fast closing in which means one thing in our annual events calendar; it's time again to explore London's vast literary heritage with Literary Footprints 2018 and October will see the fifth running of our annual literary walks festival.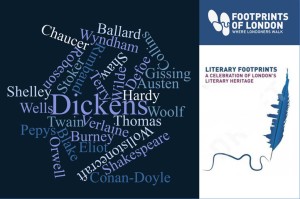 It is a unique and London-centric literary festival; like a walking book club, it will take you out onto the streets of London on guided walks researched, written and led by our experienced, professional guides.

You will see where the novels and poems are set, where the authors' inspiration was born and the avenues and alleyways, buildings and gardens their characters inhabit - places you might normally visit only in your imagination.

New walks for 2018 include Dodging the Blitz - Bloomsbury Second World War Novels, Casanova in London, Sherlock Holmes Goes East, Dorothy L Sayers Bloomsbury and Jane Austen's London.

Some of your perennial favourites return from previous years - walking the route Mrs Dalloway takes to buy flowers for her party, Tracing the Tudors in the real London of Wolf Hall, walks around Shakespeare's London, Literary St Pancras, Sherlock Holmes walks and of course explore Charles Dickens London After Dark – to name but a few.

There are guided walking tours every day throughout the month of October on a dizzying array of literary-themed subjects with places on them costing only £12 each (£9 concessions).

Alternatively, why not treat yourself to a great value Literary Footprints season ticket for only £49 which will allow you free access to all the walks in the full Literary Footprints Festival 2018 calendar.
Upcoming walks
Our next 20 London guided walks are listed below, for our full schedule of walks please visit our walks page.

Seen a walk you want to go on but can't make the date?  You can choose your own date and time for any of the London guided walks you see on our website by booking it as a private tour.

For a complete listing of all our scheduled London guided walks please
visit our walks page