Your guides to London
Footprints of London is a London guided walks company with a difference; we're owned by our guides, all our guides are qualified and accredited and all our walks are researched and written by the guides leading them.
Walks by and for those who love London delivered with care, professionalism, insight and enthusiasm, that's the Footprints of London difference.
Literary Footprints 2016 is here!
October is upon us which on the Footprints of London calendar means only one thing; time for our annual Literary Footprints Festival!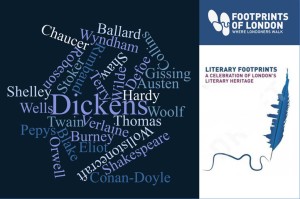 Literary Footprints is a unique, London-centric literary festival that celebrates the fundamental role of London as both muse and backdrop to so much great literature.

It's like a "walking book club" that takes you out onto the streets to visit where the novels and poems are set, where the authors' inspiration was born and the avenues and alleyways, buildings and gardens their characters inhabit – places you might normally visit only in your imagination.

And this year it's bigger and better than ever with nearly 60 walks over 31 days on 40 different topics - that's at least one Literary Footprints walk every day throughout the month of October.

All the walks can be booked individually, but if you are feeling suitably inspired (and energetic!), our great value season ticket allows one free place on as many of the walks as you wish to go on for only £40.

The full programme is here, alternatively you can click here to view (or right-click to download) a PDF brochure featuring all the walks and a complete walks calendar.

We look forward to seeing you on the walks!
Upcoming walks
Our next 20 guided walks are listed below, for our full schedule of walks please visit our walks page.
Seen a walk you want to go on but can't make the date?  You can choose your own date and time for any of the walks you see on our website by booking it as a private tour.
For a complete listing of all our scheduled walks please visit our walks page