Your guides to London
Footprints of London is a London guided walks company with a difference; we're owned by our guides, all our guides are qualified and accredited and all our walks are researched and written by the guides leading them.


Walks by and for those who love London delivered with care, professionalism, insight and enthusiasm, that's the Footprints of London difference.
Literary Footprints Festival 2017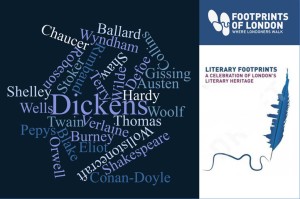 As October creeps into view that means only one thing on the annual Footprints of London events calendar; time again for our annual Literary Festival!


London's streets may not be paved with gold but there are literary jewels to be found around every corner; if you know where to look, that is…


Like a walking book club, our qualified and experienced guides will lead you through the pages of London's literary history.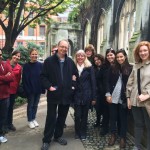 See the places you might only have visited in your imagination; where some of the nation's best beloved novels and poems are set, where the authors' inspiration was born and visit the avenues and alleyways, buildings and gardens their characters inhabit.


Literary Footprints 2017 will be the fourth annual running of our unique and London-centric literary festival and this year it's even bigger and better than ever.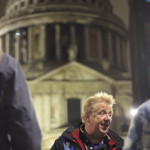 Meet George Orwell in Soho, Wilkie Collins in Marylebone and Samuel Pepys in the City. Hear from William Shakespeare, Charles Dickens and T S Eliot and follow in the footsteps of fictional characters such as Mrs Dalloway and Sherlock Holmes. Or explore the literary connections of districts like Covent Garden, Bloomsbury and Chelsea.


There is at least one Literary Festival guided walk every day throughout October; that's more than 50 literary-themed guided walks to inspire and entertain you.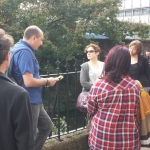 The full schedule and booking details can be found here.


Or if you find yourself spoiled for choice (and are feeling particularly energetic!) why not take advantage of our excellent value season ticket which allows for one free place on as many of the walks as you wish to go on.


We'll leave the final word to Virginia Woolf's Mrs Dalloway:


"I love walking in London," said Mrs. Dalloway. "Really it's better than walking in the country."


And who are we to argue? We look forward to meeting you on the walks.


Upcoming walks
Our next 20 guided walks are listed below, for our full schedule of walks please visit our walks page.

Seen a walk you want to go on but can't make the date?  You can choose your own date and time for any of the walks you see on our website by booking it as a private tour.



For a complete listing of all our scheduled walks please visit our walks page