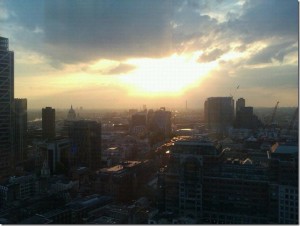 At Footprints of London we've been debating the best places to get a good view of London. Of course the London Eye is fantastic, but it is hugely popular and not the cheapest of ways to see the city. You can walk up to Primrose Hill or Hampstead Heath but again they can get busy. So where else can you go for an overview of the city?
In recent years London's tall buildings have kept the view to themselves. Public viewing areas at the Shell Centre and Canary Wharf didn't last long, while the restaurant on top of the Gherkin is strictly for invited guests. That's about to change with new bars on top of Heron Tower and the Shard opening soon, and there's even a plan to reopen the restaurant on the BT Tower. If you cant wait that long, Nido Spitalfields has just opened a pop up bar called Sky Lounge on its 32nd floor. For the price of a drink you can enjoy stunning views, just five minutes walk from Liverpool St.
Not prepared to pay at all? Why not visit a little park called Greenwich Point . You can see across the city to Wembley Stadium, and you'll likely have room to setup a picnic. Over in East London The Royal Victoria Dock Bridge gives superb views across Docklands, while if your feeling more adventurous why not climb Beckton Alps – a spoil heap created when the Beckton Gas Works were built, which gives you a great view of the Olympics site.
Ultimately London is a city of intimate surprises rather than grand vistas. However once in a while its nice to get an overview and realise just how much of it there is to explore. What's your favourite London view?