Horatio Nelson
October 6, 2011
Comments Off

on Horatio Nelson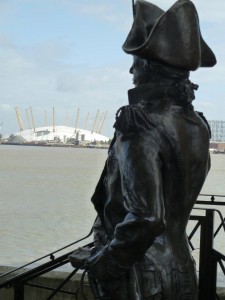 Is Admiral Horatio Nelson the last hero in the West?
Well, he will be on Sunday 16th October when Battle of Trafalgar victor Lord Nelson is the last of eight heroes celebrated on an approximately 90 minute walk along the famous zero degree line of longitude at Greenwich, South-East London.
The statue of Nelson stands overlooking the Thames a mere 100 metres west of the most famous median line in the world. Installed in 2007 outside the imposing late Regency period Trafalgar Tavern, Nelson's bronze figure was sculpted by local artist Lesley Pover and unveiled by TV celebrity and former Greenwich borough resident Lawrence Llewellyn-Bowen.
Nelson's victory over a combined French and Spanish fleet off Cape Trafalgar in October 1815 almost certainly prevented an invasion of Britain by Napoleon.
But as the Heroes from Zero guided walk will reveal, Nelson didn't exactly fit the tall, lantern-jawed Hollywood hero mould. Only about 5′ 6″ in height and dwarfed by his 6′ 4″ Flag Captain Thomas Hardy, Nelson was slightly built and suffered from sea-sickness throughout his naval career.
As the walk will show, Nelson had several other human foibles and, contrary to popular belief, never wore an eye patch.
To discover more about Nelson and seven other fascinating but flawed heroes and heroines associated with the zero degree line of longitude, join Greenwich guide Neil Sinclair at 11am on Sunday 16th October at the park's Chesterfield Gate.