Attenshun! Film lovers fall in for another epic drama shot in Greenwich.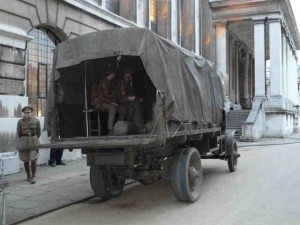 The arrival at the Old Royal Naval College this month of veteran vehicles and costumed extras heralds the filming of yet another fin de siècle blockbuster in Greenwich.
This time it's Parade's End, an adaptation for BBC TV and HBO of the Ford Madox Ford novel set in England and the Western front before, during and after World War One.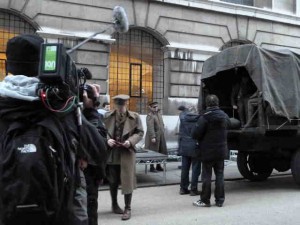 With a screenplay written by Sir Tom Stoppard and starring Benedict Cumberpatch and Rebecca Hall as English aristocrat Christopher Tietjens and his wife Sylvia, Parade's End is the latest in a long line of films to employ the baroque splendour of Christopher Wren's Old Royal Naval College as a period backdrop.
Learn more about the filming of this five-part BBC 2 drama and the magnificent role played by Wren's classic architecture on Lights, Camera, Action! On Location in Greenwich – the fascinating guided walks led on 8th January and 15th January by Footprints of London and Greenwich guide Neil Sinclair.
Parade's End marches onto the Old Royal Naval College only weeks after the cameras, trailers and a cast of hundreds decamped from shooting the new Sherlock Holmes film A Game of Shadows and Effie, which chronicles the tangled relationships of Effie Gray, beautiful young wife of Victorian art critic, writer and philanthropist John Ruskin.
Parade's End, Effie and Game of Shadows are all scheduled for release in the UK during the next twelve months, as is another partly shot-in-Greenwich classic – The Iron Lady, starring Meryl Streep as Margaret Thatcher.