L'éléphant est arrivé sur l'endroit!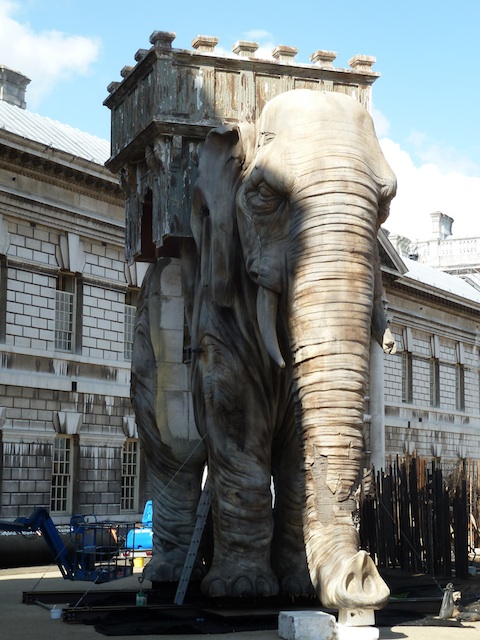 Plans to shoot the final iconic scenes of Victor Hugo's epic novel Les Miserables are beginning to take shape with the arrival of a giant model elephant at Greenwich's Old Royal Naval College (ORNC).
The giant pachyderm is being assembled in the ORNC's Lower Grand Square, which is being disguised as the Place de la Bastille in Paris during the 1830s.
Conceived (not literally, of course) by Napoleon to celebrate his victories, the Parisian model elephant was fashioned in 1810 of plaster as a model for an intended permanent monument made of bronze. But after Napoleon's defeat at Waterloo in 1815, construction plans stalled and the plaster elephant gradually fell into disprepair and was demolished in 1846, leaving only the circular base which remains as the support for the famous July Column.
Luvvies and revolutionaries are expected to man the barricades later this week or early next when filming of Les Miserables is scheduled to start in Greenwich.
Due for release at the end of this year, Les Miserables stars Hugh Jackman as convict and parole violator Jean Valjean and Russell Crowe as his merciless pursuer Inspector Javert. Lower Grand Square has hosted scenes from a number of famous films including Patriot Games starring Harrison Ford, The Iron Lady with Meryl Streep as Maggie Thatcher and Pirates of the Caribbean – On Stranger Tides starring Johnny Depp.
If Les Miserables film director Tom Hooper or producer Cameron Mackintosh want any student extras – revolting or otherwise – there are usually several hundred on site as the ORNC's four beautiful baroque courts are leased to the University of Greenwich and Trinity College of Music.
Find out more about the world of movie make-believe by accompanying Footprints of London guide Neil Sinclair on Sunday 13th May when he leads a guided walk through cinematic history in Greenwich.
The 90 minute walk On Location in Greenwich retraces the steps of the many stars who have hit their marks during the shooting of major feature films at this fascinating world maritime heritage site.