Oh deer! Golden Hinde to miss river pageant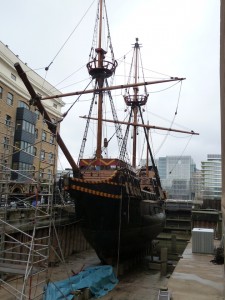 The original Golden Hinde, Francis Drake's famous Elizabethan flagship, brought an immense fortune in looted silver and other treasures back from her epic voyage circumnavigating the world between 1577 and 1580.
This vast haul, worth dozens of millions of pounds at today's values, enabled voyage backer Queen Elizabeth I to pay off her entire foreign debt with plenty left to spare. It made even Drake's cabin boy the modern day equivalent of a millionnaire.
But plans for the replica Golden Hinde to take part in June's Thames river pageant celebrating the Diamond Jubilee of England's second Queen Elizabeth have foundered for want of £30,000.
This is the sum which the Golden Hinde Trust, charitable owners of the Devon-built repllca, needed to raise to fund opening and closing the gate at St Mary Overie Dock, Southwark, where the galleon has been moored since last setting sail in 2003.
Troy Richards, Golden Hinde Trust manager, conceded that the money couldn't be raised in time for the Golden Hinde to take advantage of the last high tides necessary to exit St Mary Overie dock before the river pageant on 3rd June.
"Unfortunately, the ship is not going to leave the dock as we haven't been able to raise the funds," said Troy.
Instead, the Golden Hinde will remain in St Mary Overie Dock, a spectator of, rather than participant in, the biggest Thames river pageant for over 300 years.
However, Troy said the Golden Hinde – looking resplendent after a major refurbishment – will be festooned with bunting and flying the red cross of St George English flag and Drake's own flag.
The original Golden Hinde was typical of the ships familiar to William Shakespeare from his time living and working in the Bankside area of Southwark.
See the replica Golden Hinde and learn about the role played by epic Elizabethan trading voyages and shipwrecks in Act II of William Shalespeare's London on Saturday 5th May and several other Saturdays in May and June.