Heraldry – Metropolitan Borough of St Pancras
Heraldry – Metropolitan Borough of St Pancras
May 29, 2013
Comments Off

on Heraldry – Metropolitan Borough of St Pancras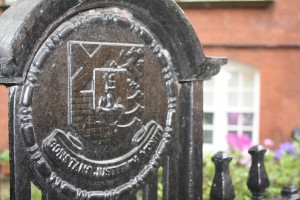 Last week I mentioned how the Heraldry Society pointed out to us that heraldry was all around us. Putting this to the test I decided to see how long it would be before I spotted a coat of arms on my walk to work. It took five minutes before I came across the arms of the Metropolitan Borough of St Pancras on the railings of Flaxman Terrace. It's an interesting example because it's a really early version of the St Pancras coat of arms, which differs from the official version adopted in 1936, but it tells us a lot about the history of the area.
In the middle is a depiction of St Pancras, the Roman saint to who the local church is dedicated. The cross and chequer on the left are taken from the town of Lewes, which was the first place in England to have a church dedicated to St Pancras. In the bottom right the seaxes of the county of Middlesex. The top right is a lion and the motto Constans Justitiam Moniti are taken from the Russell family arms, headed by the Duke of Bedford former landowners in the area.
John Russell was an advisor to Henry VIII and created Earl of Bedford in 1551. The land around Bloomsbury came into the possession of the Russell family after William Russell son of the 5th Earl of Bedford ( a man who fought on both sides in the English Civil War) married the daughter of the Earl of Southampton who had previously owned the land. Francis Russell the 5th Duke had little interest in Bedford House, the families home on the Bloomsbury Estate, preferring to spend time developing new farming techniques at Woburn, or opposing William Pitt in the house of Lords. In 1800 Bedford House was demolished to be replaced by great squares like Russell and Bedford Squares. By 1900 times had become harder for the big estates and Herbrand Russell 11th Duke was forced to sell off much of the Bloomsbury lands.
In 1900 the Metropolitan Borough of St Pancras was created as part of the London County Council reorganisation of London government. It took until 1936 for the official coat of arms to be adopted, which had St Pancras at the top. While their coat of arms referred back to the aristocratic past, the Borough had a forward looking agenda aiming to improve housing in St Pancras, Flaxman Terrace is an example of their social housing, built in 1907.  By the 1950s St Pancras was seen as a hard left borough, acquiring the nickname "The Peoples Republic of St Pancras". The Borough was absorbed into Camden in 1965, but elements of the Russell coat of arms have survived into the Camden coat of arms. Sadly though the arms are not often seen, now replaced by the councils logo.
We will have more heraldry stories soon – in the meantime you can find more examples on our Royal Connections and Guildhall Art Gallery  walks.