Heraldry
May 25, 2013
Comments Off

on Heraldry
Most of the Footprints of London guides were at a meeting where members of the Heraldry Society gave a presentation. Heraldic symbols first came into use after the invention of plate armour meant that it became hard to identify people on the battlefield. A coat of arms soon became a must have for any aspiring gentleman, even Shakespeare wanted to get in on the act to show he had arrived. With the industrial revolution the new wealthy were proud of where they got their money from and incorporated industrial designs into their arms. With the Victorian love of chivalry banks and councils adopted heraldry as a way  of giving their institutions an air of pedigree and permanence. In the last few decades the coat of arms has given way to the logo as a method of corporate identification, a bit sad really as logos are always changing with tastes in fashion.
The key message the Heraldry Society had was that heraldic symbols can be found everywhere, and they often tell a fascinating back story to a building. Obviously this set the Footprints crew looking and we have decided to choose some of our favourite examples for the blog.
First up is Brian who has chosen The 1st Duke of Westminster's statue in Belgrave Square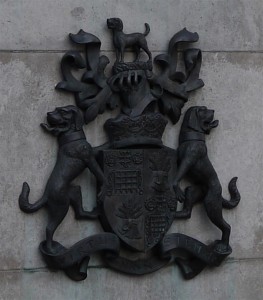 His arms are accompanied by Talbot Hounds (a now extinct hunting dog) The Talbot hound and the greyhound are the only dogs in English heraldry.  The Talbot hound
is always depicted with its tongue hanging out.
You can find out more on Brian's walk Hidden Knightsbridge on Thursday 30th May, and you can see more of his photography on his website
We will have some more heraldry for you on the blog soon