Lighting Up The Angel Islington
Lighting Up The Angel Islington
May 11, 2013
Comments Off

on Lighting Up The Angel Islington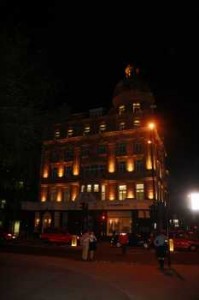 This week a new lighting scheme has been unveiled at the Angel. The Angel, Islington is one of those buildings that people have heard of even if they haven't even been to London, thanks to it's inclusion in a certain board game. However it isn't obvious to people arriving in Islington which building the Angel is. Hopefully the new lighting scheme will draw attention to the former Angel Inn, now used as a Coop bank.
There has been an Angel Inn on the site since at least the mid 17th century, and probably before that. Situated at the start of the Great North Road, it was the ideal place for visitors to London to pause before making the dangerous journey through footpad infested Clerkenwell, while drovers on their way to Smithfield would use the Angel Inn as a place to sell on cattle to dealers who would fatten the cows up before sale. Minstrels and theatre companies provided entertainment making the Angel Inn a colourful place to stay, as depicted by
Hogarth
and
Thomas Rowlandson
.
The current building dates back to 1901, its distinctive terracotta coloured bricks feature little cherub like angels as an architectural joke, while its domed roofed tower became a local landmark. It didn't stay an inn for long however, becoming one of Lyons restaurants in 1921. Here smartly dressed nippies waited at the tables after their daily uniform inspection. Wedding parties were a speciality and displays of wedding cakes tempted passing couples to book the domed room at the top for their special day. It was to this restaurant that Victor Watson of the Waddington Games Company, and his assistant Marjorie retired during their fact finding mission for the Monopoly Game. Northerner Watson had no clue about which streets should be go on the board for the game, so the pair traipsed the streets looking for suitable places to include, until a foot sore Marjorie could stand it no longer and demanded they call the last square on the board Angel Islington after the restaurant they had paused in.
After Lyons moved out the building has had some undistinguished uses, offices, university buildings and now a bank. However we are lucky to have the building at all. As recently as 1980, demolition was being considered to make way for a huge roundabout scheme that would have rivalled the one at Old Street for ugliness and pedestrian unfriendliness. Since then however the Angel has acquired distinctive neighbours – Angel Square one of London's best examples of the eclectic Post Modernist style and a refurbished BT building across the road in the 21st century modernist glass and steel look. With the Angel area being so busy at night time let's hope that the new lighting scheme at least draws attention to one of Islington's most important buildings.