A new look for Mount Pleasant
A new look for Mount Pleasant
November 24, 2013
Comments Off

on A new look for Mount Pleasant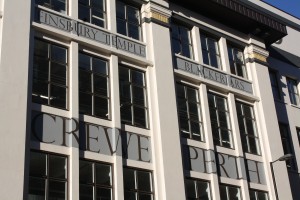 I like the new look for Mount Pleasant sorting office, the new coat of paint smartens the building up and they have proudly added the names of London postal districts and towns that are/were important to the postal network. Although the Mount Pleasant site is due to undergo drastic redevelopment in the coming years, it's good to see the existing building looked after.
In it's heyday Mount Pleasant was the hub of communications for the whole British Empire, the largest post office in London, with communications from British interests across the world arriving there by mail. Mount Pleasant hasn't always been an auspicious address. The name is one of the little ironic jokes you get in London history – the mount was a pile of rubbish dumped by 18th century London. It was then the site of the brutal Coldbath Fields Prison.
When the prison closed in 1877 there was local debate about what to do with the site. Some thought a public park would improve the area, one of the poorest parts of London. Others thought an influx of respectable postal workers would improve the atmosphere of the area. In the end the Post Office won and moved in in 1887 – a move not popular with the postal workers –
"disappointment filled our minds when we found the prison was to be our abode"
said an article in the Post Office magazine. The old prison was certainly a dark and dingy workplace. The worst duty was in the department dealing with foul smelling parcels – workers had to open them up and find people had posted bizarre items like leeches, dead mice  and rotting meat.
The old prison was pulled down in the 1920s, and despite damage in a fire and in  World War Two, it became one of the most modern postal facilities in the world, using conveyor belts to move the post and in 1927 the famous Mail Rail train connecting Mount Pleasant with London rail terminals. Mount Pleasant was one of the first places to use Optical Character Recognition equipment to read post codes.
Inevitably, with the postal business changing, such a large site in Central London would be an attractive asset to be sold off, and the quiet streets around Mount Pleasant will change drastically in the coming years. However the new look for the building, and the news that Mail Rail is to be reopened as a visitor attraction are good news that something of this important building will remain.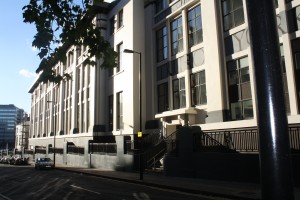 We visit Mount Pleasant on our Walking the Hidden River Fleet Walk.