A Close Escape for Soho
December 4, 2013
Comments Off

on A Close Escape for Soho
There are lots of London buildings that I would have love to have seen built, but for one reason were never completed – Sir Edward Watkins tower in Wembley for instance, that would have been taller than the Shard if it had not run out of money during construction in 1894. Or Thomas Wilson's pyramid of the dead from 1829, which would have seen burial space for 5 million Londoners if Primrose Hill could have taken the weight of construction. However few people will mourn the non construction of buildings featured in a new exhibtion at Wellington Arch.
Almost Lost – London's Buildings Loved and Loathed looks at building schemes that would have radically altered London's cityscape during the 1950s and 1960s. Most of the schemes were rejected at an early stage, but the new exhibition uses digitally enhanced photographs to show how they might have looked if constructed. Obviously tastes change and many buildings that started life looking like monsters have eventually become old friends. However one scheme in the exhibition  that stands out as a disaster we were saved from is the Geoffrey Jellicoe scheme for Soho in 1954. The Scheme involved obliterating the streets of Soho and replacing it with a covered shopping centre and high rise accomodation. While no doubt the quality of the individual architecture might have been good – there can be no doubt taht one of London's most vibrant and valued areas would have been destroyed if the scheme went ahead. In the end it did not go beyond concept stage, although some of the flavour of what might have happened can be seen at William Blake House, a sixties tower block in the heart of Soho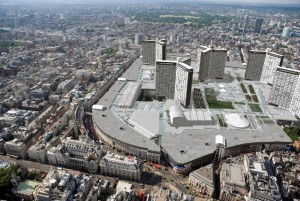 The 1954 scheme for Soho (picture courtesy English Heritage)
Obviously cities do have to change but the exhibition does highlight the need for care when dealing with big schemes in London, a city that has evolved gradually over hundreds of years can't be ripped apart by big schemes without risk of great damage.
The exhibition is on until February 2nd
If you wan't to find out more about the history of Soho come on Alan's festive Christmas walk on 8th December at 11am