An On-Street Dickens Quiz
An On-Street Dickens Quiz
February 26, 2014
Comments Off

on An On-Street Dickens Quiz
Jenny Pedler has a challenge for you..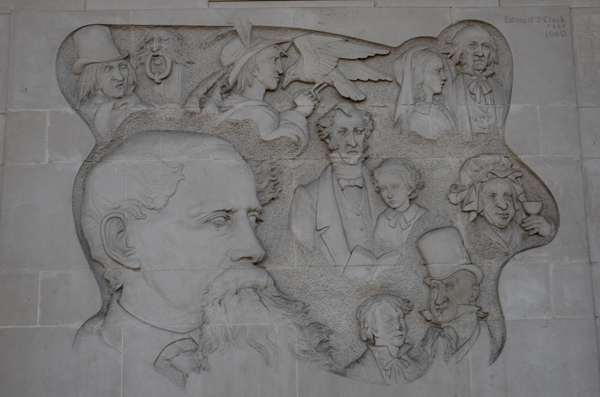 "A house of great promise (and great premium), 'undeniable' situation and excessive splendour…" This was how Charles Dickens described 1 Devonshire Terrace, the Marylebone house he moved into in 1839. It was possibly his favourite of his London houses and certainly the one he lived in the longest. The 12 years he spent there were a productive period of his life – in more ways than one – in addition to completing six novels, six of his 10 children were born there.
There was an outcry when the house (along with the other two houses that comprised the original terrace) was scheduled for demolition the 1950s to make way for the rather bland office block that stands in its place today. The Dickens Fellowship and the Marylebone Historical Society both raised objections. The issue was even debated in parliament.
"Is the hon. Member aware that this house, in which "David Copperfield" was written—one of the greatest novels in the world—is to be demolished in six months' time unless he or the planning authority does something to stop it? Will he give an assurance that he will not give permission for demolition of this house?" asked Kenneth Robinson, the MP for St Pancras North.
But parliament would not over-rule the decision of the planning authority, the London County Council, who decided against making a building preservation order "in view of the architectural character of the premises, which have been substantially altered since they were built in the late eighteenth century, and of the existence of other houses in London and the provinces devoted to the memory of Charles Dickens."
So the demolition went ahead but as compensation the developers offered to commission the commemorative panel (shown in the photo) depicting the six novels Dickens wrote while living there. In the top centre is Barnaby Rudge with Grip the raven. Dickens owned a raven called Grip while he was living in Devonshire Terrace. He was so fond of him that when Grip died Dickens had him stuffed and he's still on display today, on the other side of the Atlantic, in the Rare Book Department of the Free Library of Philadelphia.
The panel was sculpted by Estcourt J Clack, who also created the Diana drinking fountain outside Green Park Station, and was carved in situ. You can see it on Jenny's Marylebone Muses walk on 8th March, and find out what other characters it depicts, if you haven't guessed them already.