Art Below at St Marylebone Parish Church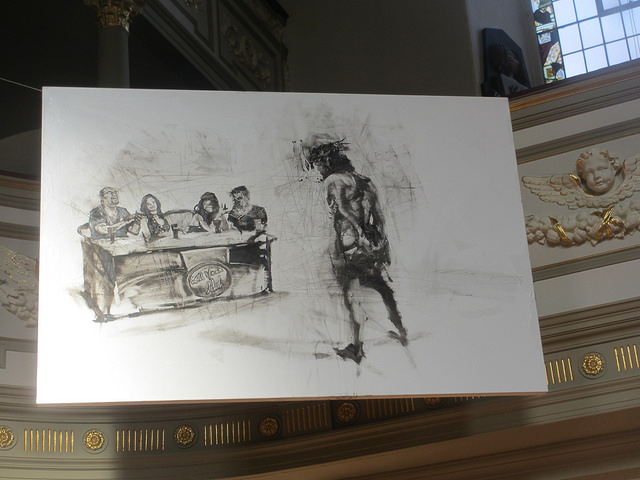 Kill Your Idol, by Anthony Micallef, 2014
St Marylebone Parish Church is hosting an exhibition of modern art during the 40 days of Lent (open 8am-6pm, closes 17th April).  The exhibition is called Stations of the Cross – and includes 20 very powerful works exploring the Easter story by a range of artists including Ben More, Wolfe Lenkiewicz, Sebastian Horsley and Alison Jackson.   The pictures are for sale, and the money raised goes to the Missing Tom Fund, a charity that is trying to find the long lost brother of Ben Moore.
Stations of the Cross can be seen in many churches – usually on the walls of the nave, and often quite small – usually 14 objects, sometimes pictures, sometimes sculptures.  Many churches have a stations of the cross service on Good Friday (before Easter Sunday) where the congregation travel from station to station replicating the story of Christ's trial and execution.
This set of Stations of the Cross are laid out throughout the church, with Wolfe Lenkiewicz's massive picture behind the altar, with Paul Fryer's tortured Black Pieta sitting below.  The whole exhibition is amazingly powerful, and really well worth experiencing.  It will cause parishioners and visitors to reflect on the Easter story.
The picture above shows Anthony Micallef's picture "Kill Your Idol".  I think that the combination of the traditional Christ in front of what I think looks like a modern social security tribunal really challenging.
The Parish Church of St Marylebone is also a wonderful building to explore.  Quite a few Footprints of London guides have walks looking at the Marylebone area that will feature the church and it's history – watch out for a future walk that Jenny Pedler will be launching in this neck of the woods soon. It's one of my favourite parts of London to explore on foot.