Southwark Cathedral Lent Installation
Southwark Cathedral Lent Installation
March 13, 2014
Comments Off

on Southwark Cathedral Lent Installation
Neil Sinclair writes about a new installation at Southwark Cathedral
While I was on guiding and welcomer's duty at Southwark Cathedral today I took a few
pictures of the (relatively) new Lent installation by local Southwark-based and trained artist/designer Angela Wright.
Called 40 Days, it is made from spun wool and is suspended from beneath the (Ninian Comper) east window – a drop of some 50 ft, covering the altar screen. Wright is quoted on the Southwark Cathedral website as saying she hopes that "visitors will look up at its mass
and the spillage of its myriad wavy strands tumbling down to the stone floor, its colour, smell and softness will engage with the senses".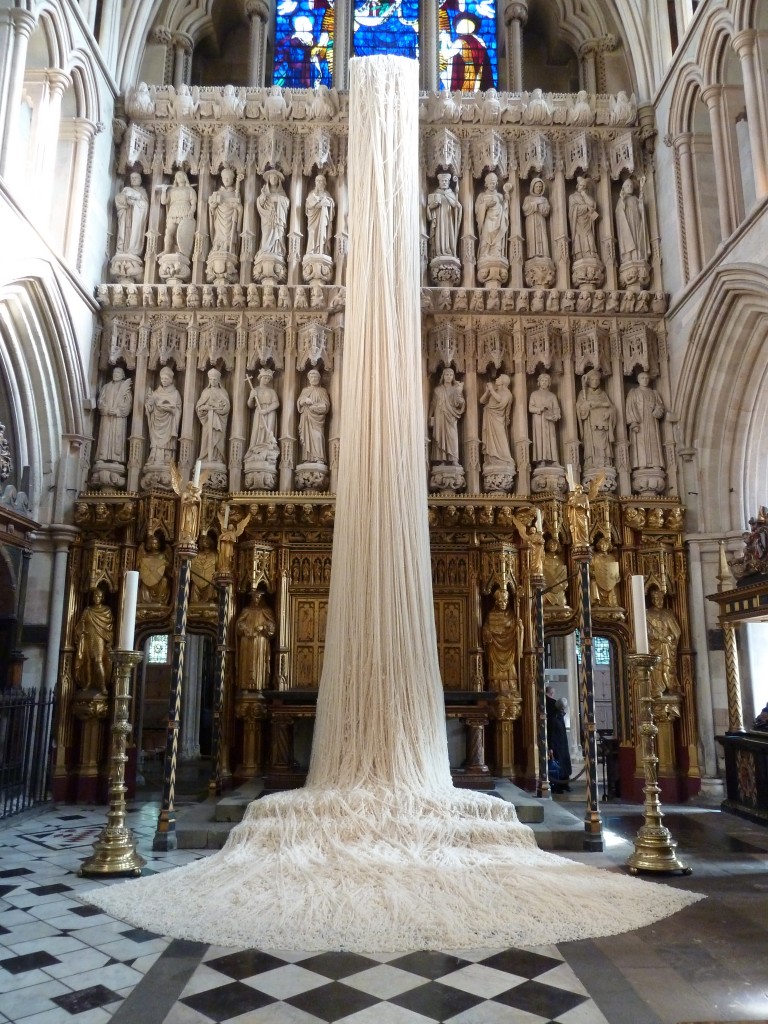 There is also another Lent installation,  in the retro choir behind the great screen. Entitled
'Another Hour' it is by Edmund de Waal. It consists of twelve free-standing vitrines, each nearly 7 ft high and holding a single white porcelain vessel.
They stand in a serpentine line in the retro choir at the east end of the cathedral. The artist described his work as an "…attempt to make you pause, to stand still and listen in this vast building, to contemplate the changing light and shadow of the space and to reflect on a thousand years of liturgy." Wright's 40 Days is really impressive; beautiful and thought-provoking. De Waal's Another Hour is thought provoking but not beautiful.
On a minor feline note, the celebrated cathedral cat Doorkins (or Doorkins Magnificat to give her full name) has been sent on holiday for the duration of Lent lest she take too close an interest in the rather enticingly soft and comfortable pool of spun wool on the floor of the high altar. Doorkins (something of a pun on the infamous atheist Richard Dawkins) is being well looked after by a woman in Blackheath who takes in stray cats!
Neil's next walk for Footprints of London is Outlaw Southwark on 31st March