Farewell, Leicester Square Theatre
Farewell, Leicester Square Theatre
April 15, 2014
Comments Off

on Farewell, Leicester Square Theatre
Stephen Benton looks at the soon to be demolished Leicester Square Theatre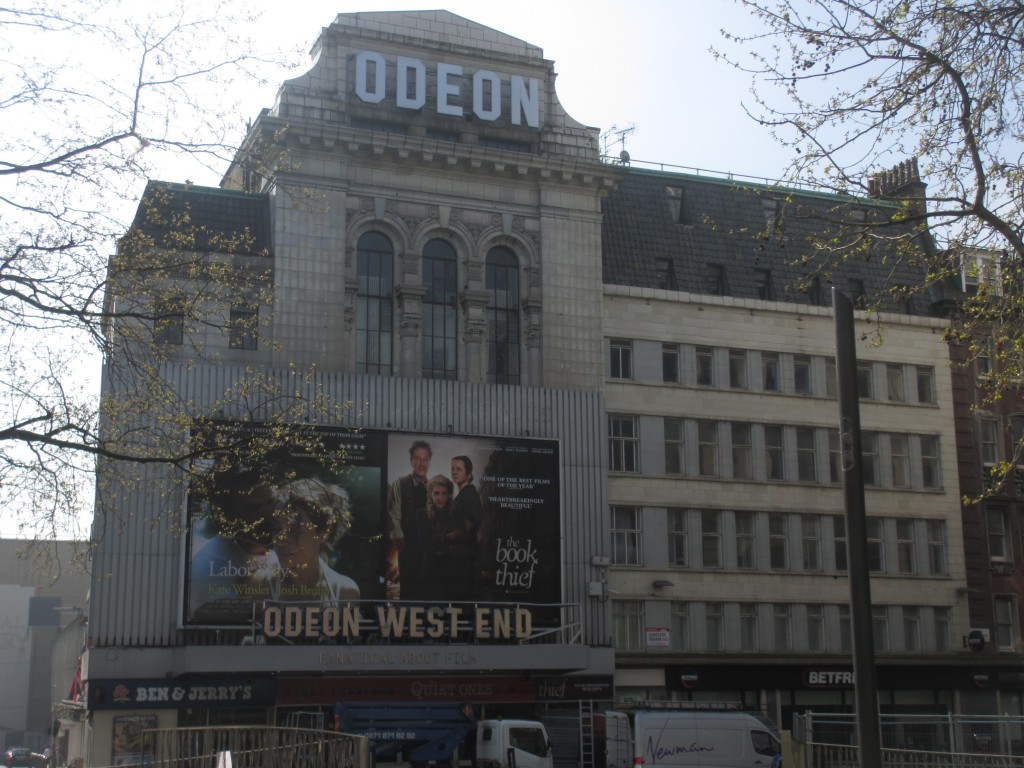 Sometime soon, we shall see the demolition of the block at the south west corner of Leicester Square to be replaced by a 360 room hotel with a two screen cinema tucked away in the basement. This will mean the destruction of the Odeon West End cinema, which was built as the Leicester Square Theatre in 1930.
The Leicester Square Theatre was the creation of actor Jack Buchanan and impresario Walter Gibbons. Initially intended as a live theatre, there were problems acquiring adjacent properties and so the space for the stage proved insufficient for large productions. As a result, it opened on 19 December 1930 as a dual purpose theatre and cinema. Initially it had some 1,760 seats on three levels – stalls, circle and balcony. And Jack Buchanan had a flat built for himself on top of the theatre, which he lived in until it was damaged by bombing in 1940.
In the early 1930s, there was a mix of films and live theatre sometimes on the same bill – for example in July 1931, Gracie Fields appeared for a week 'twice-nightly' as a prelude to her film "Sally in Our Alley". But it was not a very satisfactory theatre and by 1933, it had become a cinema full time. It was taken over by Odeon but retained its name until 1988.
The interior was completely reconstructed in 1968 and the balcony level was removed, leaving a cinema on two levels, seating some 1,400. It survived as a single cinema until 1991 when it was split into two, with a 500 seat cinema downstairs and an 800+ seat cinema upstairs.
Odeon sold the site in 2006 and in October 2008, Westminster Council approved plans to redevelop the site with a 240 bed hotel and two small basement cinemas. Demolition and building work was due to begin in the summer of 2009, and some of the businesses on this block including the Hand and Racquet pub round the corner closed. The plans were put on hold due to the economic situation. However, Westminster Council approved a new proposal with a larger hotel in January 2014, and this time it looks like this will happen.
The original 1930 facade of the theatre is still there, although partly hidden by some ugly metal cladding. But the entrance and interior have been totally altered, which is no doubt why there has not been a major campaign to try and preserve it.  At least they could have saved the façade, but no. So we will lose another old movie house to be replaced by a shiny corporate hotel that could be anywhere.
If you would like to learn more about the history of West End movie houses, Stephen will be repeating his cinema walk on 19 April. This takes in some 20 buildings or locations of cinemas ranging from tiny fleapits to the huge 1930s super cinemas and ends up in a 1911 former cinema which is now a pub.
Book at https://www.eventbrite.co.uk/e/west-end-movie-houses-fleapit-to-deco-super-cinemas-tickets-11047466269?ref=ebapi