A Query from a Gold Medalist
A Query from a Gold Medalist
April 3, 2014
Comments Off

on A Query from a Gold Medalist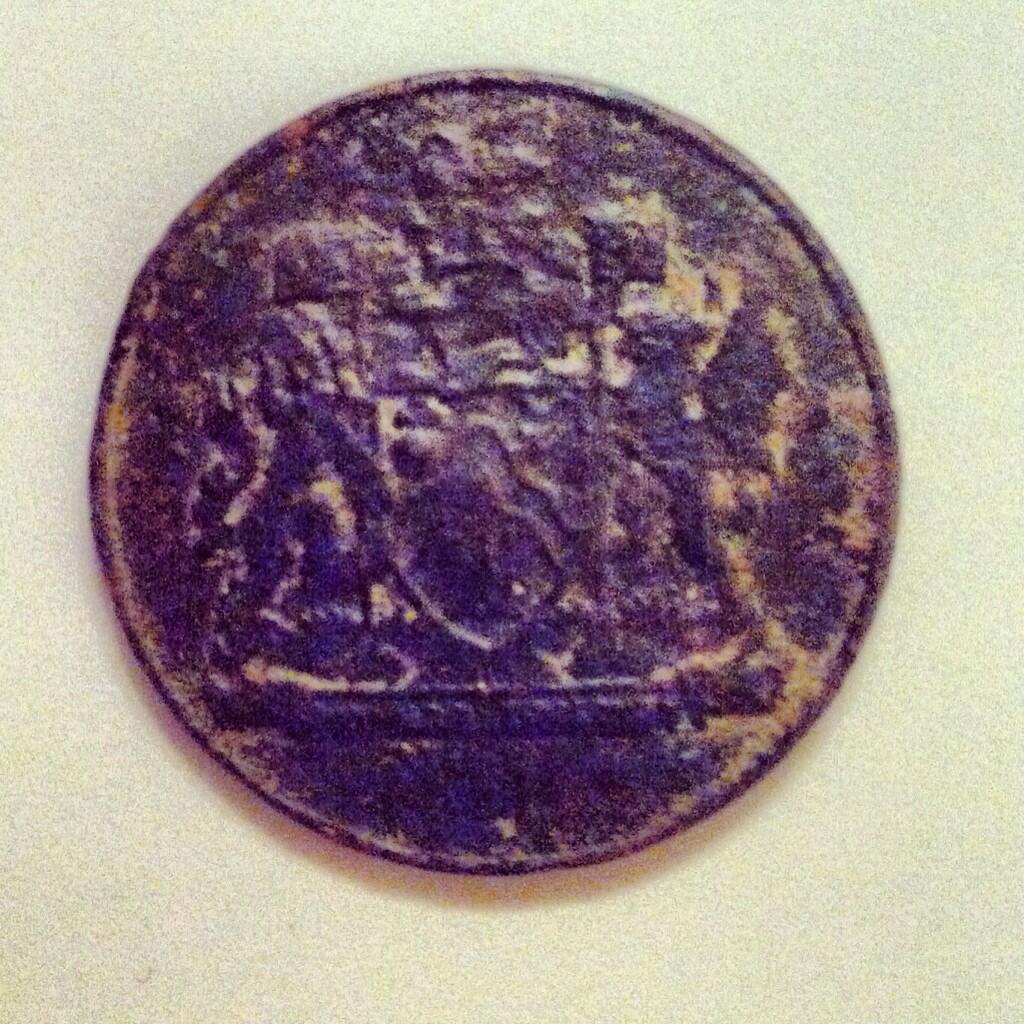 The Footprints of London team have been scratching their heads all week after receiving an interesting query from Team GB rower Alex Gregory MBE. Alex found this object on the Thames foreshore while out rowing and asked us if we had any idea what it was. After his gold medal winning performance at London 2012, the least we could do was to try and find out.
Alex said the object was slightly smaller than a modern 10p and was blank on the back. It looked like a coin, but it would be very unusual for a coin to have a blank reverse. Dave initially thought it might be a liveried waterman badge, which could be enclosed in
leather. Watermen were very important in London when there was only one bridge across the river, acting like taxi drivers on the Thames, and they carried badges to show they were authorised to operate on the river. However the badges are usually a bit bigger than this.
Dave's next thought was a livery button, maybe from a coat or a cufflink from a uniform of a servant working for a noble family or some institution. Buttons however usually have a loop at the back for attaching to the garment, although this could have eroded away. "A tavern token?  But most tokens have two sides" thought Dave.
Dave spoke to another guide about the find as while they viewed the Black Death bodies at on display at Charterhouse  and he said – it's possible that the blank back means it might be sewn into some form of livery – a leather jacket with the coin embedded in it. He also suggested a grand theory – that it might come from a Jacobean sympathiser imprisoned on a hulk moored in 18th century.
Tina has been working on the Thames foreshore archaeology project at Queenhithe and she recommended getting in touch with the Thames Mudlark community on Facebook. They were pretty sure it was a livery button – but who did it belong to?
The coat of arms is intriguing. Dave says "We have supporters – a lion so probably some royal connection, and then another beast (with wings?) holding a flag (also used in royal contexts).  Coat of arms has a bend wavy with something in the canton in the top dexter side.  Crest looks like another beast possibly wearing a crown.   The bend wavy could well be a reference to the river."
The creature on the right hand side does look like a Wyvern a two legged dragon. It has a passing resemblance to the coat of arms of Beccles Town Council  though hard to imagine how it got in the Thames. The arms of the Honourable Company of Master Mariners is similar too, but that company was only formed in the 1920s and this looks much older.
So our best guess is that it was a button from a coat of a servant working for a family with royal connections during the Georgian period. We haven't given up yet though, we will let you know if the Museum of London Finds Officer has any ideas.