The Long Well Walk
April 10, 2014
Comments Off

on The Long Well Walk
Footprints of London guides are helping out the charity The Long Well Walk when founder Liam Garcia reaches London on his epic walk from Sheffield to Cape Town. The walk will raise money that will be used on water projects in Sub Saharan Africa. Footprints of London Guides Jen Pedler, Jenni Bowley and Rob Smith will be walking with Liam and a group of guests and telling them about how London tackled it's sanitation problems during the 19th century. It's a great cause – you can donate here
You can also join Rob's walk The Makers of Modern London on May 1st. All proceeds will go towards the Long Well Walk.
One of the projects will be to build proper toilet blocks, so here are some London sanitation facts from Footprints guide Brian McClory
The first flushable public lavatories designed by George Jennings opened in 1851 but the first underground lavatory appeared in the 1880's in Trafalgar Square near the statue of Charles I.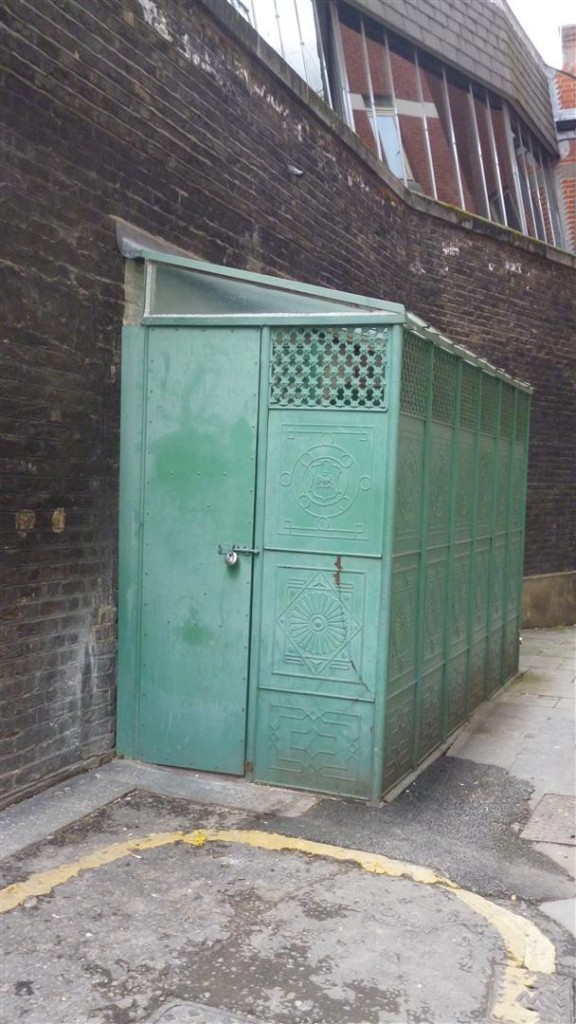 The photograph above  is of a cast iron urinal which is in Star Yard WC2 at the side of the Royal Courts of Justice.  It is a listed Grade II building and the photograph of the listing taken in 1980 appears to indicate that it was still in use then. It was manufactured by McDowell Stephen & Co, Milton Ironworks and appeared in an episode of Rumpole of the Bailey.The City of London recently providing pissoirs which rise out of the pavement at 8pm.   There's one in Watling Street at the side of St Mary Aldermary.
Centuries ago, when artificial drainage was first introduced, the sewers were made to follow the lines of streams flowing into the Thames. It wasn't until 1865 that a reform was carried out which involved interception sewers parallel to the Thames which discharged into the river on remote marshes on the seaward side of London. The work was carried out by Sir Joseph Bazalgette but had been proposed by others before he implemented the scheme.
If we look back in time sewage disposal is a problem that quite naturally has increased in relation to an increase in population. In the 12th century the inhabitants had a refuse pit that was emptied by night soil men and used as manure. Many latrines overhung the river and the Master of the Temple was obliged to keep one open for public use. The Walbrook was lined with one street of these devices and the public was charged one shilling a year.
In 1307 a Commission of sewers was created to purify the River Fleet the smell of which had been strong enough to overcome the incense burnt in nearby churches. Other statutes of a local nature were made in 1225, 1436, 1438, 1489 and 1515 under which conditions of drainage were partly regulated but no statute of a general character was passed until 1531.   This was renewed in 1548 and in 1607 James I extended its application to all places within two miles of London.
In 1732 the River Fleet was partly covered over and made into a sewer.   The Ranelagh and Kings Pond sewers were closed about the same time. Water closets were introduced to houses in 1810.   They were slow to be adopted but within 20 years they were in fairly general use. The idea of a system of intercepting sewers was first suggested in 1834 by Mr John Martin.   Eleven years later the idea was proposed again by Mr Thomas Wickstead engineer to the East London Waterworks Company.
In September, 1848 an Act of Parliament was passed creating the Consolidated Commission of Sewers and that act also required every water closet or privy to be drained into main sewers.   The Commissioners set about to abolish the two hundred thousand cesspools. A competition was run to design a sewer system and although one hundred and sixteen designs were submitted none were chosen. There were further schemes and submissions but an Act of Parliament dated 2nd August, 1858 allowed Bazalgette to start his work.
Brian's next walk is Greenwich Highlights on 19th April