Our Top Ten Steps and Staircases
We climb many flights of stairs in the course of an average day, but the best staircases are more than just a way of getting between floors. Architects have used staircases as a way to make a grand statement, or maybe a place for visitors to pause and enjoy a building or view. Other's have historical associations. Here are our nominations for London's best steps and staircases.
1 The Tulip stairs at the Queens House, Greenwich
Neil Sinclair and Brian McClory both nominated the Tulip Stairs. Neil says "They have surely got to be amongst  the most beautiful and of course architecturally significant in the entire country" The stairs in the Inigo Jones designed house were the first geometrically self supporting staircase in the country, each step being supported by the weight of the one above, meaning no central pillar. This creates a beautiful sense of light in the building.
Why not visit the Queen's House after one of Brian's Greenwich Highlights walks – next one is on 31st May
2 Stairs to the Italian Terrace at Crystal Palace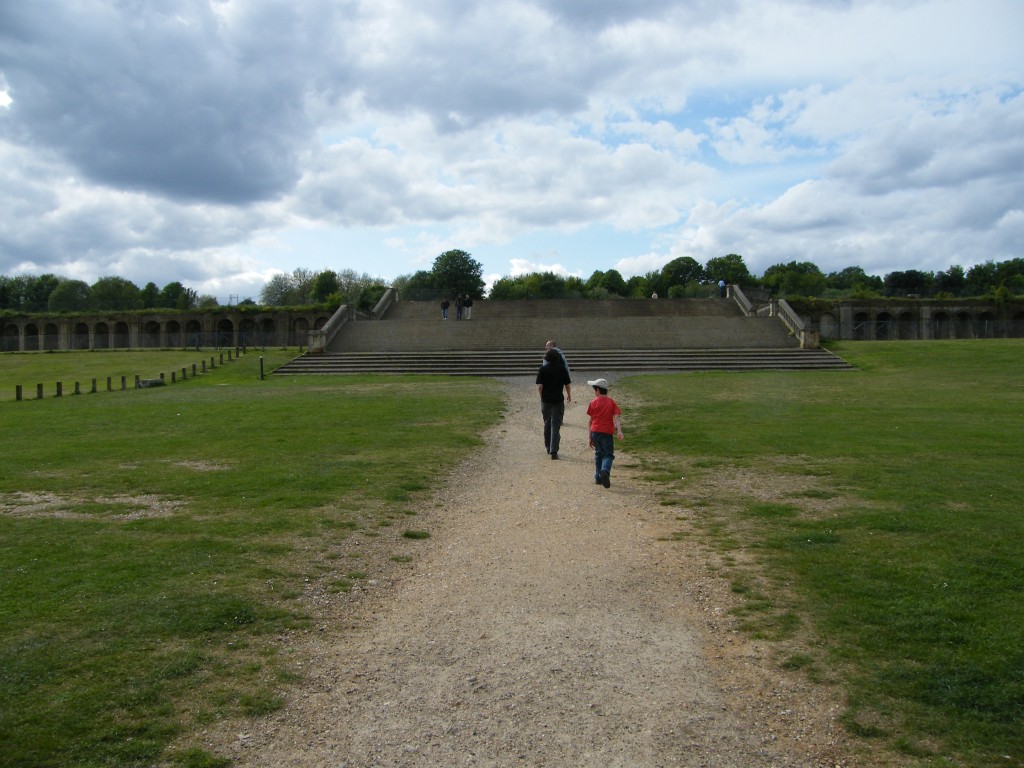 Rob Smith thinks these are a an evocative reminder of past grandeur. "I think you can get a real sense of the past climbing these stairs" They led up from the ornamental gardens up to the Italian Terraces outside the great Crystal Palace themselves. "You can imagine ladies with parasols in Edwardian dress passing you as you climb them". Despite the palace being destroyed in 1936 the terraces are surprisingly intact and you can still enjoy sphinxes copied from the Louvre, and statues of figures in traditional national dress that were part of the original plan by Joseph Paxton, and his garden designer Edward Milner.
Rob will be talking about another of Paxton's schemes in his walk The Makers of Modern London on June 5th
3 Nancy's Steps
Some steps have literary associations. Joanna Moncrieff chose Nancy's Steps – part of John  Rennie's 1831 London Bridge, the rest of which is now in Arizona. The story goes that these are the steps on which Nancy is murdered in Oliver Twist. In fact this happens only in the film of the musical Oliver, though it doesn't stop the steps being an atmospheric survivor from the London Charles Dickens knew.
You can join Joanna on a foodie tour of Soho on May 31st
4 Queen Mary's Steps
Jen Pedler chose Queen Mary's Steps at the end of the Ministry of Defence Gardens. These are a fragment of Whitehall Palace, the largest palace in Europe in the late 1600's. The steps ran down to the river from a terrace outside Queen Mary's waterside apartment, designed by Sir Christopher Wren in 1691.  Luckily we still have another survivor of Whitehall Palace – the magnificent Banqueting House.
Find out more on Jen's walk The River in Chains which will be on our website soon, and you can join Jen on her literary walk in Marylebone on May 31st
5 The Nelson Stairs Somerset House
Brian McClory picked the Nelson or Navy stairs in Somerset House. They get the name Navy stairs as they led to the Navy Board Office.  They would be used on a daily basis by Maurice, Nelson's brother, as he was clerk to the Navy Board.  This was the last bit of Somerset House to be built.  The picture depicts the 1953 version by Sir Albert Richardson.  The original by Sir William Chambers was totally destroyed by bomb damage in 1941 but Richardson was able to recreate it from the original plans which had been stored in John Soane's house in Lincoln's Inn Fields.
You can see an original William Chambers  staircase across the courtyard in the Courtauld Gallery.  It was built with 'stations of repose'.  That's estate agents speak for landings.
Find out more on Brian's Palaces Temples and Courts walk on June 4th
6 Riceyman Steps
Jenny Rossiter chose another set of steps with literary associations. The "Riceyman Steps" as they are known, are at the end of Gwynne Place between Kings Cross Road and Granville Square. They get the name from Arnold Bennett's 1923 novel Riceyman Steps which was set in the area. The central character is a miserly bookshop owner whose shop is at the bottom of the steps. It's a great book to read but also a vivid depiction of Clerkenwell when it was a working class area. The small street called Gwynne Street gets its name because King Charles II's mistress Nel Gwyn owned a house there. Its now home to a Travelodge hotel.
Jenny will be leading a walk about Riceyman Steps in our October Literary Footprints festival. More details soon.
7 Spiral Staircase 2 Dorset Rise
Even the most mundane of buildings can be transformed by a dramatic staircase and that's certainly the case for the former KPMG buildings at 1-2 Dorset Rise, now a Premier Inn. Although externally it looks like  a building of the 1980s, it started out as a 1950s office block called St Bridget's House that was re-clad in 1986. The grand spiral staircase with its streamlined shape betray it as a 1950's design however.
Find out more on our regular Fleet Street walks, next one May 25th
8 Riverside Stairs near Fishmonger Hall
Jenni Bowley nominates the riverside stairs by Fishmonger Hall – a reminder of the Thames Watermen "For centuries the Thames was the main highway connecting London to the coast, and the City grew rich on the profits and benefits of international trade.  But until 1750 there was only one bridge across the Thames – London Bridge – and if you think that London traffic is bad today, spare a thought for Londoners in the Middle Ages who had to allow an hour to get across the bridge!  The only alternative was to take a ferry, unless you were wealthy enough to have your own barge.  Boatmen became notorious for robbing passengers and spoiling their goods and the Waterman's Company was established in the mid-1500s to protect customers – issuing licenses and regulating the ferries.  Much like taxis are regulated today, the ferries were required to display their license number and fare list. Watermen operated small boats called wherries, which could take up to 5 passengers, and plied their trade at official hiring stops known as stairs.  If you needed a ferry, you could hail a passing boat by standing at the top of the stairs and shouting "oars!"
The profusion of stairs along the riverbank is shown in a tiled reproduction in Fruiterer's Passage of a 1616 etching."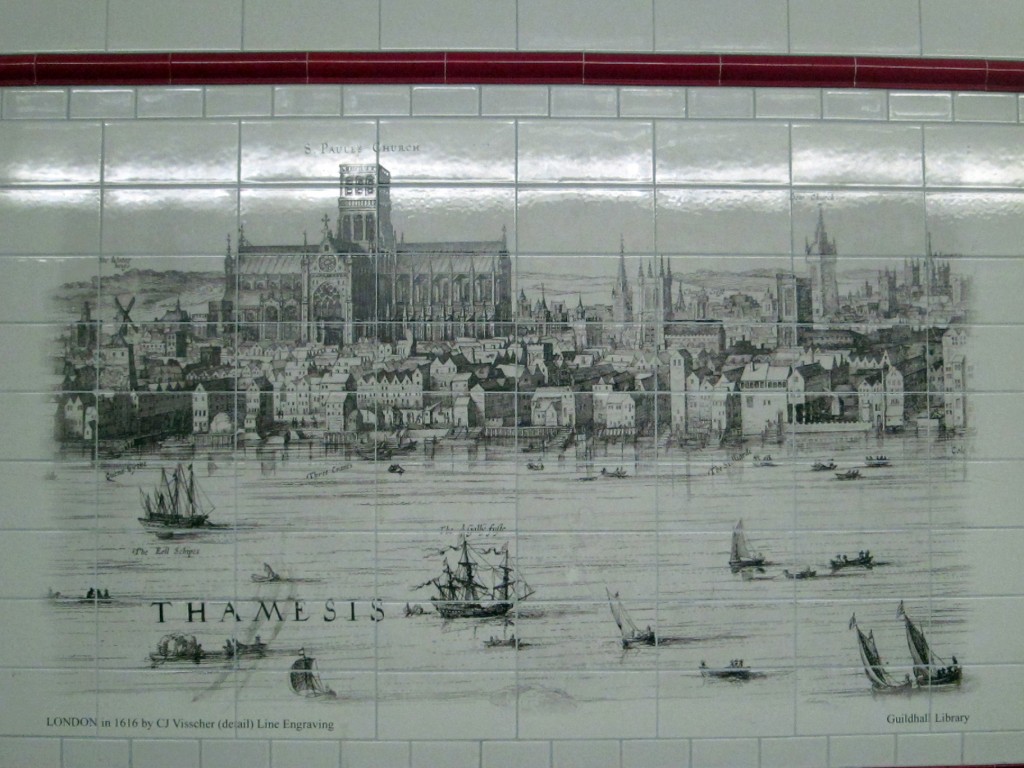 Jenni will be Walking The Hidden River Fleet on June 29th (subject to her recovering from a broken ankle!)
9 Bevin Court
The staircase in Bevin Court are the centrepiece of the block of flats by modernist architect Berthold Lubetkin built in 1953. Faced with Britain's post war financial crisis Lubetkin had to scale back many of his designs for London housing, but the staircase at Bevin Court gave him a chance to show his architecture's full potential. Bevin Court was originally going to be called Lenin Court, but the name was seen as too political.
The staircase is now usually only open to residents, but you can get a good look at the outside on Sue Sinton-Smith's Pentonville Walk, look out for more dates soon.
10 Staircase in the main hall Natural History Museum
Rob Smith likes the staircase in the Natural History Museum  "Some staircases are just meant for you to pause on, and the stairs in the Main Hall are one of them. From here you get a stunning view of the huge main hall, from the ceiling painted with plant species, to the carvings of birds and reptiles on the walls, the giant diplodocus below and the statue of Darwin on the opposite stairs. It's as if you are looking out over all the wonders of the natural world, tied together by Darwin's theories of evolution."
The Footprints team our bracing ourselves for the usual deluge of "What about … you missed my favourite!" comments. If you have any suggestions for favourite stairs or staircases send them to admin@footprintsoflondon.com or Tweet them to @footprintsldn or put them on our Facebook page https://www.facebook.com/footprintsoflondon