Kings and Queens in London – William I
The Footprints of London guides often refer to Kings and Queens of England on their walks, so we thought it would be handy to go through all the monarchs in order, and let you know what trace they have left in London. Although there were of course Saxon kings, we are going to be traditional and start in 1066 with one of the most famous – William the Conqueror, king from 1066 to 1087.
History is written by the victors, and we know William I as William the Conqueror, but to Saxons he was known as William the Bastard, and for many of his subjects he lived up to this name. His most visible legacy in London is the White Tower in the Tower of London, built to be an intimidating reminder of who was London's new ruler,  though in return William granted the City of London a charter guaranteeing the same rights they had enjoyed under Saxon Kings (You can see the charter in the London Metropolitan Archives) The Tower of London had a companion called Castle Baynard that was built near Blackfriars, still commemorated in a street name.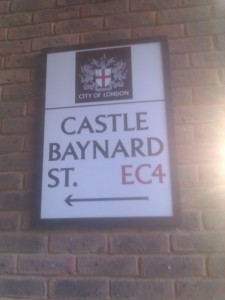 While the White Tower is one of William I's most obvious legacies (and if you haven't been there for years it really is worth a revisit) one with an equally important impact is the Domesday Book. This national survey was unprecedented in its scope and established ideas of England as a centrally administered state. You can see the original at the National Record Office in Kew
As for William I himself, surprisingly few images remain in London. He was buried in Normandy (after his corpse rather messily exploded during burial). Some coins with his image exist in the National Portrait Gallery collection, but they are not currently on display.
There is a silver gilt statue of William I in the Houses of Parliament robing room that can be seen on tours of the building. Just outside London, there is an Elizabethan scroll in the library at Hatfield House which purports to show Elizabeth I's family tree going back to Adam and Eve, which includes the striking, if not historically accurate image of William I at the top of this blog. For a better impression you need to see the amazing replica of the Bayeux Tapestry in Reading Museum
Should you wish to drink William's health there are pubs named after William the Conqueror in Manor Park and, ironically in view of William's adversary, in Harold Hill.
Next time William II otherwise known as William Rufus