City Ceremonies – Cart Marking in Guildhall Yard
Jill Finch went to see the cart Marking Ceremony yesterday
2014 is becoming the year I try to attend all those City Ceremonies I learned about whilst on the the City Guiding course. I got to the John Stowe Memorial Service and the Beating of the Bounds. I missed the Knollys Rose ceremony after reading an out of date website announcement and just about saw a bit of the Doggett Boat Race as everyone appeared from under Blackfriars Bridge (unfortunately I was on the wrong side of the river to get a really good view). Then on 16th July, in glorious sunshine, I got a coveted seat in the shade of a crowded Guildhall Yard and watched the Worshipful Company of Carmen's Cart Marking event.
It is purely ceremonial these days, but Cart Marking pays homage to the days when the Common Council kept a limit on the vehicles allowed to ply for hire in the square mile. These vehicles were given an individual number on a brass plate marked with the City coat of arms.
In 1838 the power to license vehicles passed to the Keeper of the Guildhall and the annual tradition started. Every licensed vehicle was brought to Guildhall to be marked with a letter which changed each year.
These days it's a chance for Carmen to bring vintage and treasured vehicles to Guildhall Yard to be branded or 'marked' with a red hot iron on a wooden plate.
Past Master Graham Westcott opened the proceedings – bidding us a warm welcome, which was a bit of an understatement – with an introduction to and a brief history of the ceremony. The Lord mayor, Fiona Woolf arrived and was presented with a pair of fire proof gloves from Master of the Worshipful Company of Glove Makers – a very necessary accessory when branding this year's letter 'W' with a red hot iron.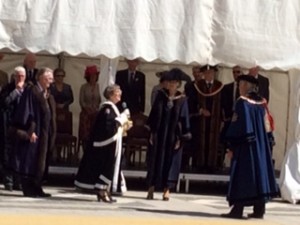 Just before 11am the Cart Marking started, with commentators Chris Salaman and Roger Wrapson, whose double act resembled cricket commentary via the Eurovision Song Contest with a nod to the Miss World contest.
We started with motor bikes and fork lift trucks followed by a Bummaree's 19th century hand cart and a fabulous 1930s taxi.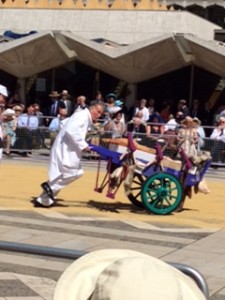 Further entrants included a traffic cone carrier, a Waitrose delivery van – reminding me I needed to go food shopping – and a vintage bus which had starred in the Foyle's War TV series.
Guildhall Yard was getting hotter and hotter and the smell of burning wood was getting stronger and stronger
A recovery vehicle (tow truck to you and me) from the 1940s was from the Cullimore fleet. Apparently each fleet vehicle bears the name of a Dickens character and this one was dedicated to Dr Alexander Manette – Lucie's father in A Tale of Two Cities.
By now we were getting to the crème de la crème of vintage City vehicles. A delightful Greengrocers Cart, a horse drawn coach and a late 19th century prison van gave way to a parade of buses and lots of nostalgic 'I remember when …' comments going on all around me.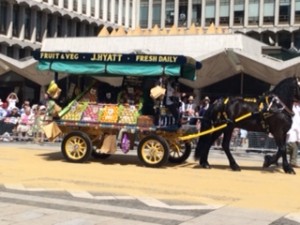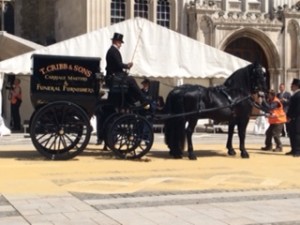 A beautifully preserved old London bus – with a newspaper placard announcing that another Suffrage leader had been arrested – dated back to 1914 and is one of only 4 still in existence.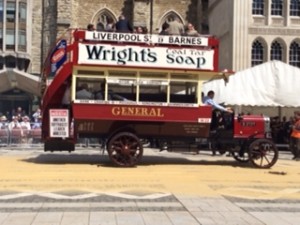 This was followed by the old RTW bus, the old Routemaster and the New Routemaster. The last vehicle to come through was the Hybrid Bus promoting the Lord Mayor's charities for 2014. (Beating Bowel Cancer, Princess Alice Hospice, Raleigh International and Working Chance).
It was a great way to spend a summer morning in the City and I'm now off to check the date, time and place of the next Ceremony I can attend.
Jill will have a new walk "Shardlake's London" for our Literary Footprints Festival in October