Sherlock Holmes Walks
August 8, 2014
Comments Off

on Sherlock Holmes Walks
Robin has news of three great Sherlock Holmes walks you can join during this October's Literary Footprints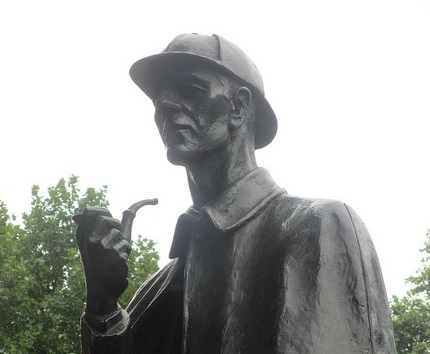 Saturday 18th October 11am Sherlock Holmes and the Red-Headed League led by Robin
Sir Arthur Conan Doyle's Sherlock Holmes stories are an immortal pleasure. By joining your friendly guide Robin, we'll recreate the thrilling adventure of 'The Red-Headed League' on foot, just like Sherlock Holmes and Doctor Watson! Starting at Blackfriars Underground, we'll take a gentle stroll through streets that Sherlock Holmes would recognise today and ponder these puzzling questions:
* Why was Mr. Jabez Wilson, a London pawnbroker, paid a small fortune to copy out the Encyclopedia Britannica?
* Just what was his mysterious assistant doing in the cellar?
* Who are the Red-Headed League?
All will be revealed at the end (near Barbican Underground).
Make your day a complete Sherlockian treat by visiting  "Sherlock Holmes: The Man Who Never Lived and Who Will Never Die" at the Museum of London a few moments walk from Barbican Underground
http://www.museumoflondon.org.uk/london-wall/whats-on/exhibitions-displays/sherlock-holmes/
Saturday 18th October 2pm Sherlock Holmes of London led by Robin
Sherlock in the City! From "The Man With the Twisted Lip" to "The Bruce-Partington Plans" there's fun here for every Sherlockian. We start our trail at Cannon Street Station, where Mr. Neville St. Claire was expected to catch the 5.14 train to his wife and family at Lee in Kent. He was last seen in a vile opium den near the river – then disappeared! On this walk, we look at clues from many more thrilling Sherlock Holmes adventures. We finish our mystery trail at Aldgate Underground, where the unfortunate Arthur Cadogan West was found on the Underground tracks, with stolen naval plans on his body.
Friday 17th October The Adventure of the Empty House led by Jen
This walk will explore the mews and backstreets of Marylebone following Sherlock Holmes and Dr Watson as they track down a murderer in 'The Adventure of the Empty House'. The walk will last about 2 hours and starts on the corner of Cavendish Square, just behind John Lewis (nearest tube Oxford Circus) and finishes at Baker St.
Find more about Literary Footprints here