Underneath the Cheesegrater
Underneath the Cheesegrater
August 19, 2014
Comments Off

on Underneath the Cheesegrater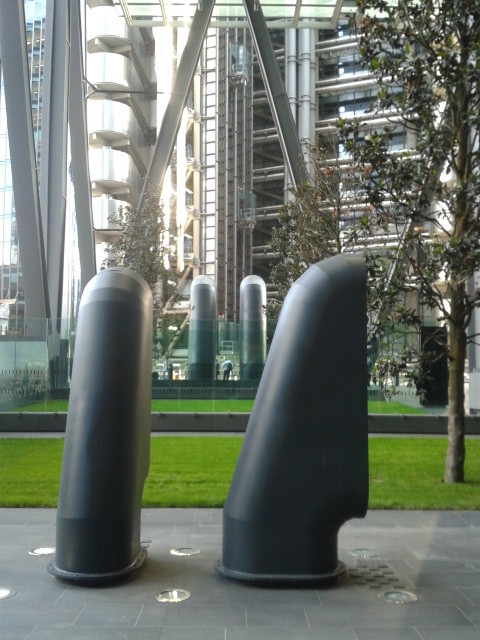 The Leadenhall Building, better known as the Cheesegrater opened its new undercroft area today, and it includes an exhibition about this dramatic addition to the City skyline. The Richard Rogers designed building has some interesting features, designed to keep the cost of running the building down. Instead of a solid concrete core to hang the building around, the Leadenhall building relies on a megaframe of steel, making a rigid wedge shape from which floors are suspended. This means more high value column free space. The megaframe for the building is designed by Arup (founded by the designer featured in our earlier post)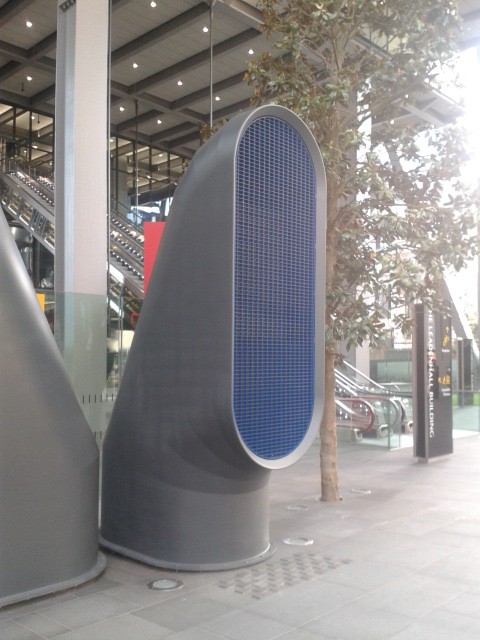 To reduce the need for expensive cooling systems the building has a triple layer glass skin through which cool air is introduced and hot air extracted through air vents. In true Richard Rogers style these air vents are highly visible – blue ones indicate cool air in, red ones hot air out. The buffer of circulating air allows the offices to have huge windows without becoming too hot to work in.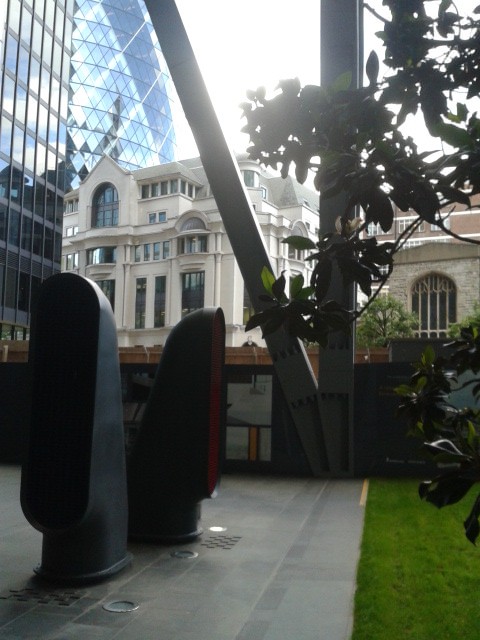 The lawn on the left of the picture is deceptive – it is actually covering up an unattractive, but necessary fire exit from the buildings neighbour the Aviva Tower. If needed, the lawn tilts up at an angle to reveal the entrance below, presumably lunchtime sandwich eaters are moved on first.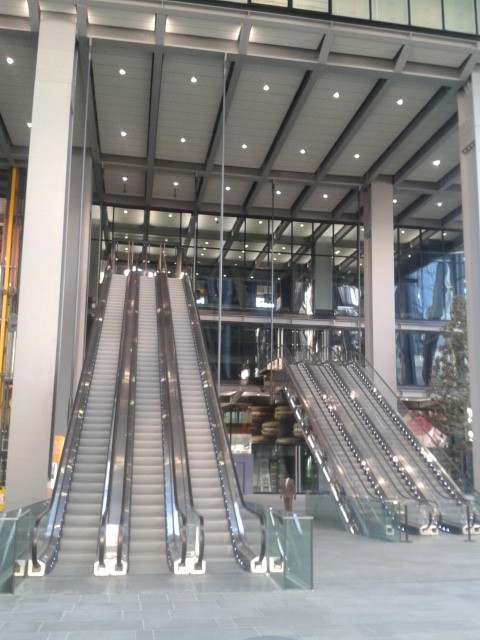 Like the Lloyds building, its Richard Rogers designed neighbour, the entrance to the offices (which will be used by three insurance companies) is above ground level. This leaves the undercroft free for retail, a public meeting space, and a walking route through to St Helens Square behind the building.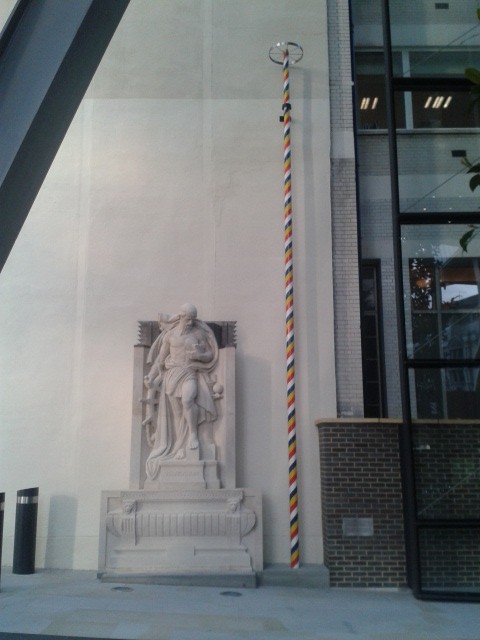 A couple of nice heritage features are on display – a sculpture of Navigation from the old P&O offices that used to stand on the site, and a maypole – a replica of the medieval maypole that stood on this site until 1517, when a bloody Mayday riot broke out and the pole was taken down to avoid further trouble. This replica was on display in a side alley next to the P&O building, unnoticed by passers by, so hopefully more people will notice it in the undercroft area.
London's new crop of skyscrapers all boast public areas. The undercroft at the Leadenhall Building is a fairly modest space, it will be interesting to see what the yet to open public spaces in the Shard and the Walkie Talkie are like. As London's skyline is dominated by these huge buildings, its only fair we get to use a bit of them, so its worth going to have a look at the exhibition.
You can find more City of London spaces on our walks – this Saturday Jill Finch explores this area looking at the themes of Money and Religion in the City