London Open House Tips and Suggestions
London Open House Tips and Suggestions
September 15, 2014
Comments Off

on London Open House Tips and Suggestions
London Open House Weekend is almost here again. With over 800 London buildings to be explored over the weekend it can be a bit bewildering which ones to see, so the Footprints of London team have come up with their suggestions.
Jen Pedler I'm stewarding at Imperial Hall – formerly the Leysian Mission – that wonderful red terracotta landmark at the end of City Road by Old Street roundabout. Built by Methodists in 1904 as a welfare centre in one of the poorest areas of London, it was converted into flats in the 1980s and this is the first time it has participated in Open House.  Access is to the entrance hall and first floor foyer; some lovely original features which really give the impression of its grandeur.  Only open on Saturday 10am-1pm.
From here you could continue the Methodist/Leysian theme with a visit to Wesley's Chapel – a short walk further down City Road. Well worth a visit if you're in the area although it's generally open to the public so you might want to do it at a time other than Open House weekend.
Best tip for avoiding the queues – sign up as a volunteer next year and you'll get priority entry to many of the buildings!
Sean Gay – The Bank of England is a 5* attraction – Get there early!!
Hazel Baker – My top tip for Open House is to get the app or the brochure FREE from your local library. Wear comfy shoes, bring water and snack, a brolly, photo ID and a fold up stool for the queues! I for one cannot wait!
Robin Rowles – My personal recommendation is the government buildings round Westminster – the corridors of power. 100 Parliament Street AKA Treasury Building recommended. Alternatively, visit Custom House which is rarely open to visitors but is this year.
Tips: Study the brochure and pick a small, tight area with several attractions in walking distance. Work out a route and stick to it. Arrive early, take your time looking and work steadily round. Don't forget to bring snacks and drinks to eat while you're queueing, keep your energy levels refreshed.
Dave Brown – I'd recommend the BMA in Tavistock Square open on Saturday. It is a little Camden gem and only open to the public on Open House weekend.  The original building was by Sir Edwin Lutyens – and has an interesting history of occupation – built for Theosophists, occupied by the Army Pay Office during the First World War, then sold to the BMA .  But if it is a fine day, then I really recommend visiting – the small garden with fish pond and trees hidden inside the building is delightful.  There is also a rather nice cafe – and an opportunity to see a bit of wall built from bricks from Tavistock House, the last London home of Charles Dickens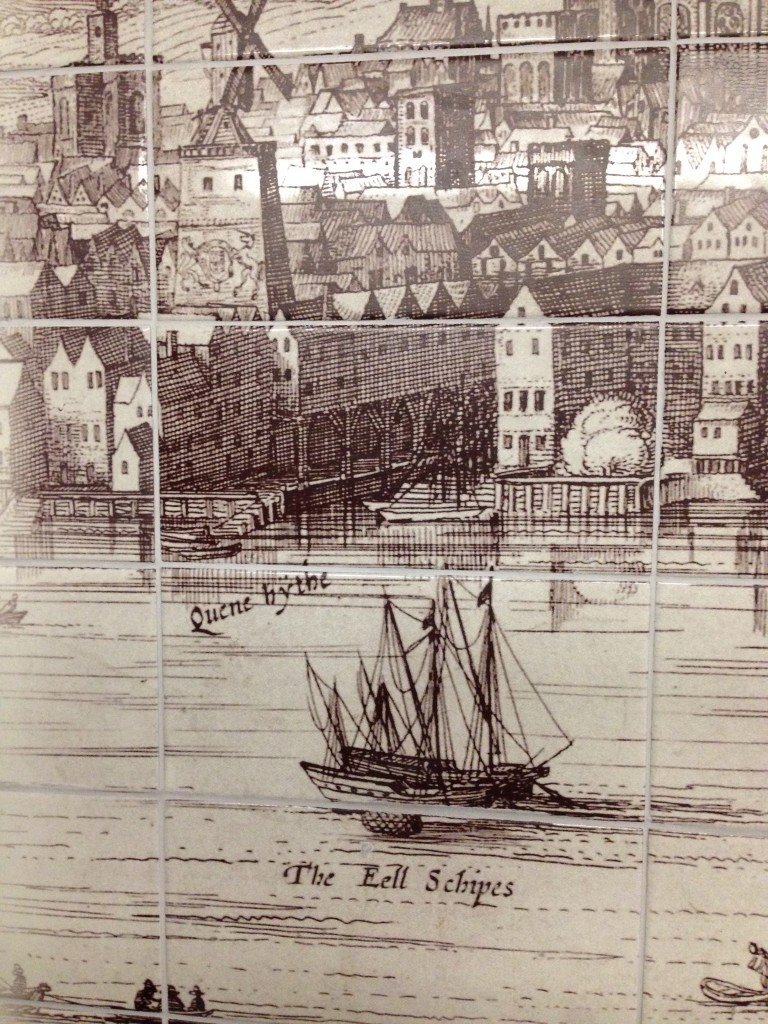 Tina Baxter – Once again I am leading my favourite walk along the Thames Path this time moving further Eastward, joining the river at Queenhithe. The tour ends at the Tower of London which will give you an opportunity to see the field of Poppies installation in commemoration of WWI. This walk will also introduce you to Geoffrey Chaucer and T S Eliot who feature in  Literary Footprints Festival in October
Stephen Benton I am doing tours at Modern Hall Park for the National Trust on the Sunday. The tour includes a visit to the only Archimedes Screw turbine in London plus for this weekend only access to the interiors of a couple of estate buildings.
My tip is you do not have to go to central London. There are lots of little gems dotted around the suburbs. In Merton, apart of course from Morden Hall Park, there is a rare chance to visit the remains of Merton Priory Chapter House which lie in a chamber underneath the A24 – we featured this in our blog back in March: http://footprintsoflondon.com/archives/2617 On the Sunday afternoon, you could also visit St Mary's Merton which still has the pew used by Nelson plus his funeral hatchment, and an archway which came from the Priory. But as the sites are more spread out you need to be organised!
Viv Schrager-Powell – I'm doing the City and River Thames walk at 11am on Saturday 20th Sept. My tip for a worthwhile day – plan ahead and study the Open House brochure to decide what you want to see before leaving home, and get there early.  Also, remember to take a bottle of water and something to snack on if you are expecting a long queue, and be mindful of the weather forecast and dress appropriately.
Stephen Chater – I'm leading a City Alleys walk at 11.15am on Saturday 20 Sept. My recommendation is St Helen's Bishopsgate, "the Westminster Abbey of the City", which is not normally open to visitors outside service times.
Stephen Cook – There's no need to go into central London! Even up here in the London Borough of Enfield you can get to (among others): Christchurch Southgate & the Minchenden Oak Garden;  Friends Meeting House; North London Hospice (great for fans of brilliant, economical and useful modern architecture; and – not be missed – the Priory. All highly recommended. I'll be guiding in St. Paul's on Saturday; taking the St. Paul's & Paternoster Square walk at 1045 on Sunday; and spending Sunday afternoon stewarding in St. Anne & St. Agnes
Joanna Moncrieff  I would also recommend signing up to volunteer next year so you can beat the queues.  Some of the shifts are only a couple of hours so it's much better time spent doing something worthwhile and then jumping the queues than spending those same hours in a queue!