Literary Footprints Day One
Literary Footprints Day One
October 2, 2014
Comments Off

on Literary Footprints Day One
Literary Footprints got off to a fine start yesterday with two excellent events. Sue Bingham led the walk Embankment to Covent Garden – Literary Heroes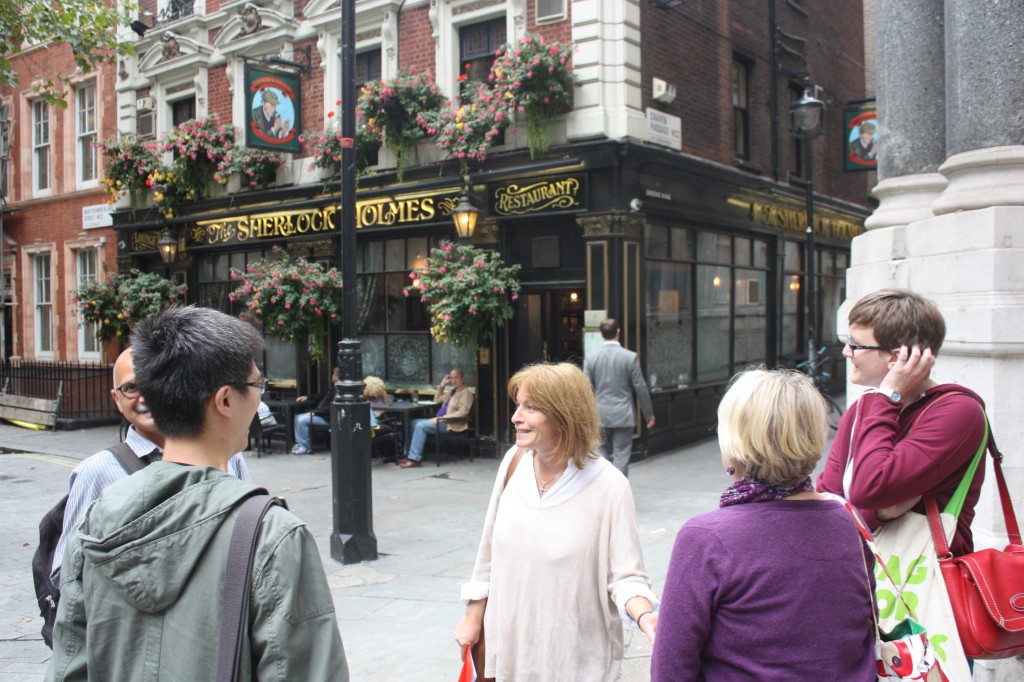 Sue told some excellent Sherlock Holmes stories introducing us to Arthur Conan Doyle's hybrid London of fictional and real locations. Within a few minutes she introduced the group to a building that was once a Turkish Bath mentioned in one of the stories. It was certainly not a building that you would notice unless you had it pointed out!. We had this review from one of the walkers –
"A very interesting talk. Sue, the guide, was engaging and knowledgeable. Look forward to attending more talks in the series."
If you missed the walk it will run again on 15th October
In the evening our talk about the 18th Century Gin Craze with Dr Richard Barnett was being prepared. The evening involved a gin tasting, with the different gins having their own colour coded glasses!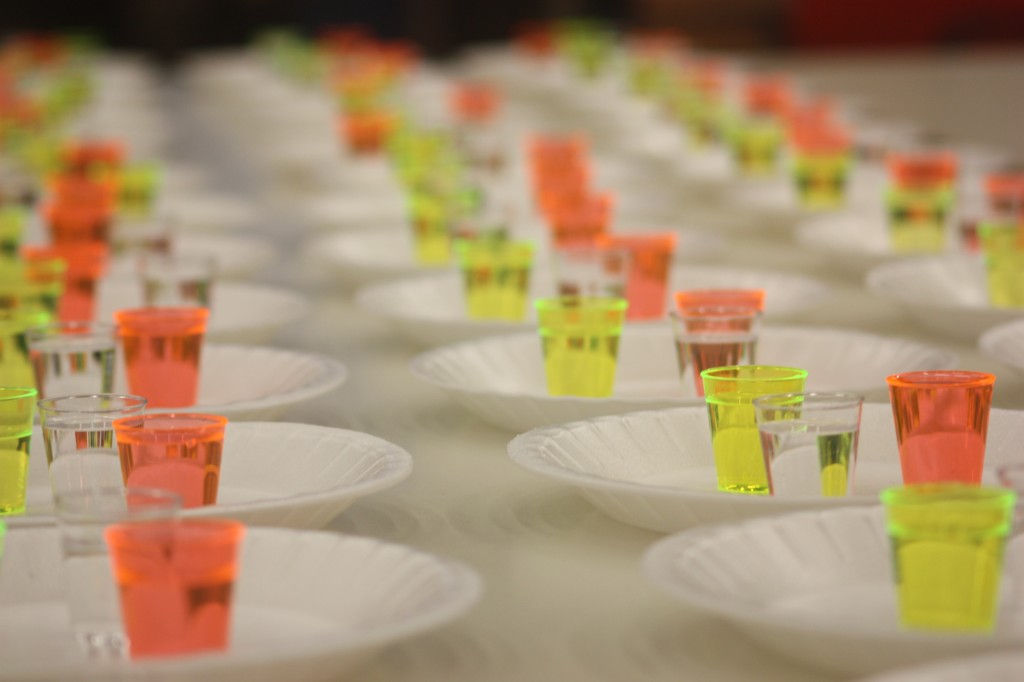 Stephen Benton introduced the evening, formally opening Literary Footprints 2014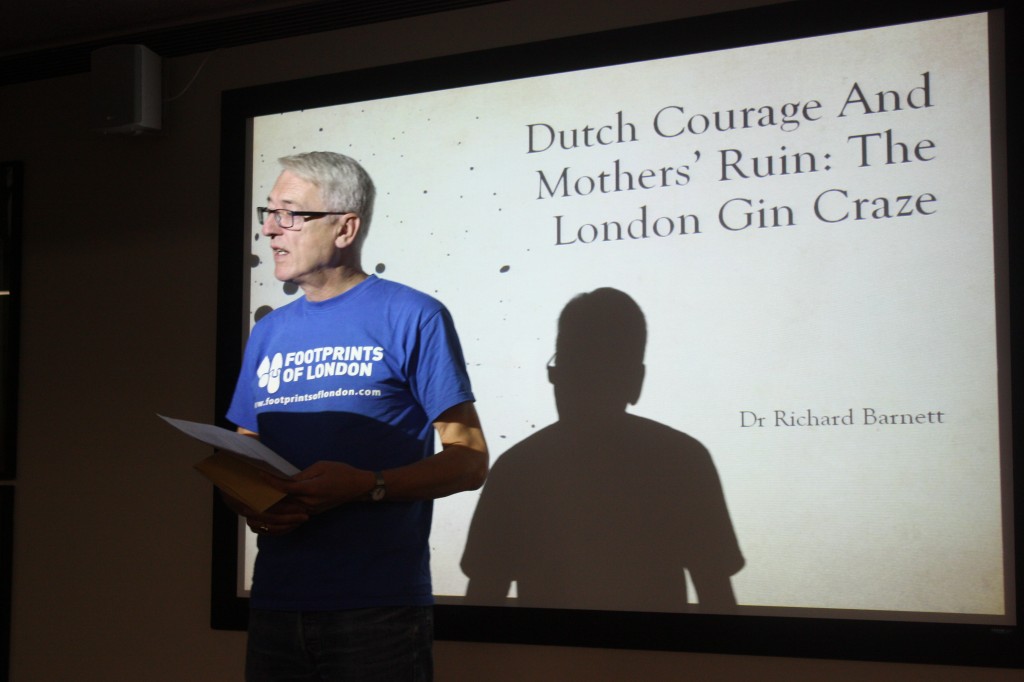 Dr Richard Barnett is a Wellcome Trust Fellow and has been working with Wellcome on projects about the history of public health for over ten years. He has written three books – Medical London: City of Diseases, City of Cures, The Sick Rose: Disease and the Art of Medical Illustration  and The Dedalus Book of Gin with more books on the way. He has contributed to numerous journals.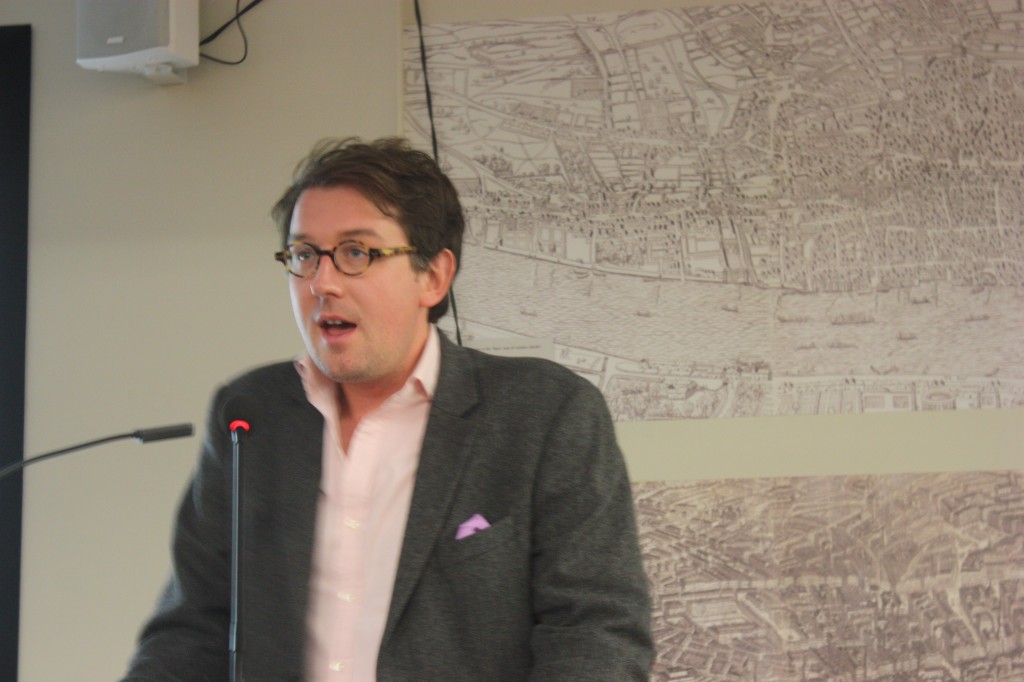 Dr Barnett talked about the Gin Craze of the first half of the 18th century – when an addictive substance laced with dangerous artificial chemicals caused its imbibers to descend into law breaking, ruin and death. The parallels with modern addictions like crack cocaine are obvious. During the period gin was cut with substances like turpentine and sulphuric acid – in fact the notion of what gin was very unclear – it was more likely a group of very strong alcoholic drink. Dr Barnett pointed out that the Gin Craze was one response to living in the huge city London had become. A city London's size was unprecedented and no one could foresee how people would behave in such an urban environment. Giving people unrestricted access to cheap strong alcohol was certainly a bit of a social experiment, and one that was judged to have failed after a few years. Dr Barnett talked about the Society for the Reformation of Manners who battled the sale of drink, clamping down on many other London pastimes as well. It was not until the imposition of  reasonable levels of duty that made it attractive for larger gin manufacturers to enter the market, selling purer products that the Gin Craze comes under control.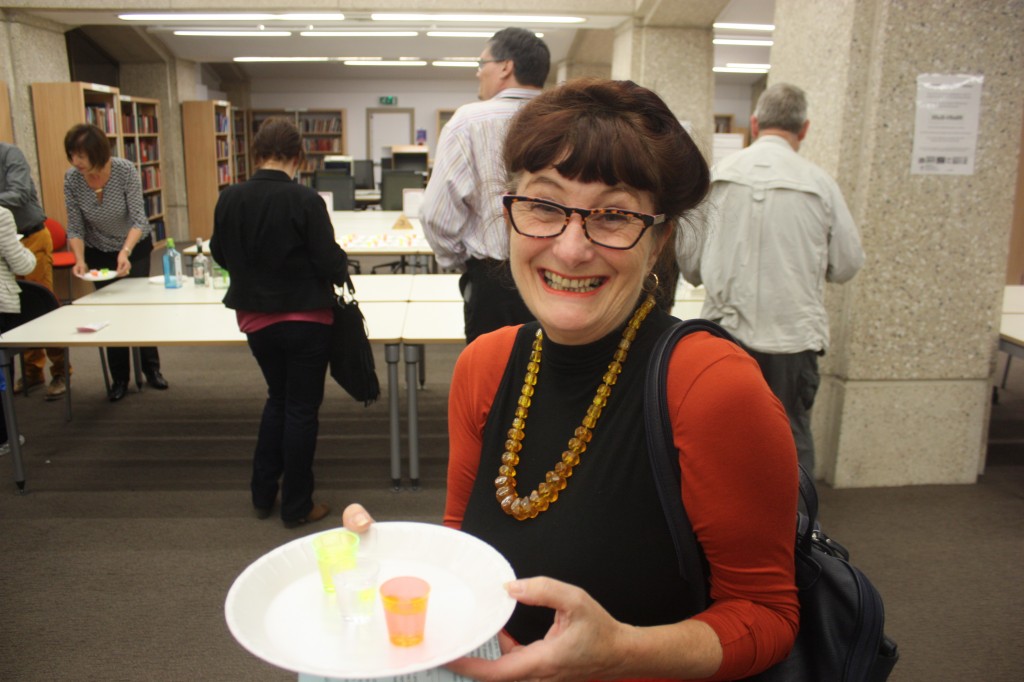 Suitably warned of the risks the gin tasting began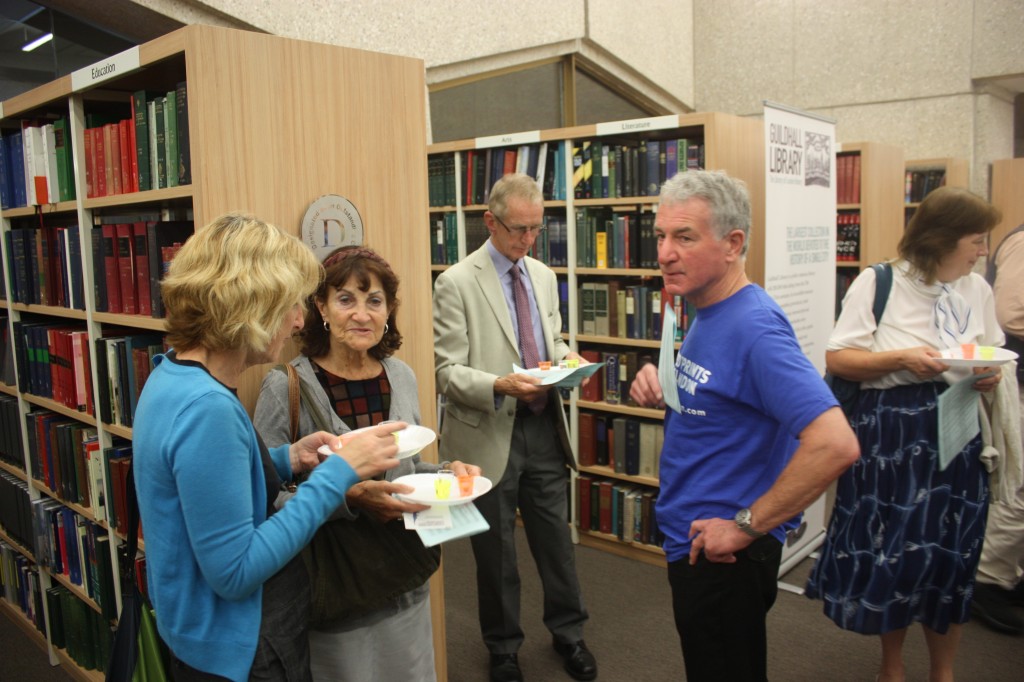 Many thanks to Guildhall Library for allowing us to use the space and to Dr Barnett for such an entertaining talk.
You can catch see the full programme for Literary Footprints at http://footprintsoflondon.com/literaryfestival