Literary Footprints – In the Footsteps of Charles Lamb
Literary Footprints – In the Footsteps of Charles Lamb
October 5, 2014
Comments Off

on Literary Footprints – In the Footsteps of Charles Lamb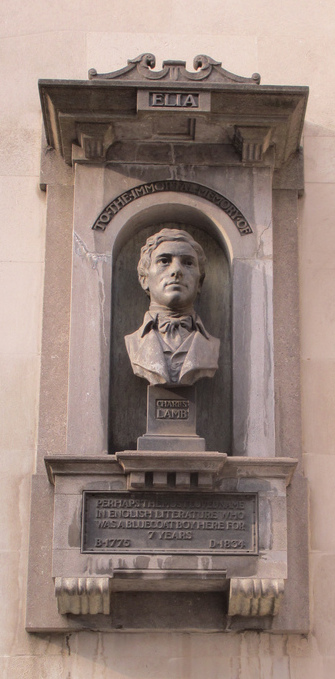 Charles Lamb, the famous Essayist and Author was born on 10th February 1775 in Crown Office Row in the Inner Temple (his father was a clerk).
Charles Lamb is associated with many locations in London.  Not only was he born in the Temple, but he went to Christ's Hospital – the famous City of London School at the time it was based in Newgate Street. He was friends with Samuel Coleridge who attended the school, and later on became friends with Wordsworth.  Both Coleridge and Lamb were liberal minded, and belonged to the Unitarian church and enthusiastic followers of Joseph Priestly the famous Minister
The bust of Charles Lamb on the walls of the Watch House at St Sepulchre's without Newgate was originally in Christ Church Greyfriars before it was destroyed in the second world war – placed in this church as the church was next door to Christ's Hospital.
He spent 33 years working as a clerk for nine hours a day six days a week in the East India House in Leadenhall Street.  Despite this, working in his spare time, he wrote poetry, novels and plays, but is most famous for his essays.  He wrote for the London Magazine using the pen name Elia, and his famous Essays were published under this name (Elia 1823, Last Essays of Elia 1833).  These were widely read, and he became one of the most famous writers of the time – even being invited to dine with the Lord Mayor of the City of London, even though he was still employed as a clerk.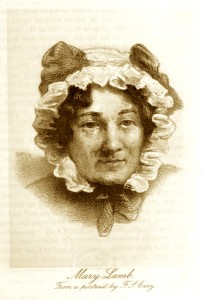 His life was shaped by his sister Mary, who in a fit of madness murdered their mother in 1796 (when Charles was only 21).  He saved her from incarceration by agreeing to look after her, and they lived together until he died (although Mary often had to spend time in the Asylum).  They wrote together (at the urging of William Godwin), including "Tales from Shakespear"  aimed at young children.  This volume and the follow on "Poetry for Children" both became very popular and provided them with some security.
He's also associated with Islington – there is The Charles Lamb pub in Elias Street (appropriate as he liked drink – it helped him overcome his stammer) and  in later life he lived in  Islington (in Chapel Street) and also in Colebrook Row in a house next to the New River. They also adopted a young girl Emma Isola after her mother died.
He died at his final home in Church Street Edmonton in 1834, and is buried in Edmonton Churchyard.  His elder sister outlived him by a further decade dying in St John's Wood in 1947.
He collected books, and one of his friends described his library as 'the finest collection of shabby books I ever saw; such a number of first-rate works of genius, but filthy copies, which a delicate man would really hesitate touching'
Charles Lamb is just one of the fascinating Literary people that David covers in his Literary Secrets of Smithfield and Clerkenwell walk on Sunday 12th October.
For more about Charles and Mary Lamb, visit The Charles Lamb Society.