Jill Finch celebrates the birthday of poet John Donne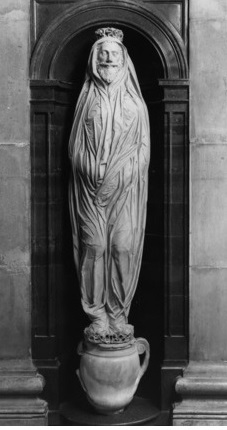 Every Friday in St Paul's cathedral as I take a group of visitors around Wren's masterpiece I am always running late. But, as I let the group know that now is their chance to run for the hills before we get to the crypt and that cup of tea they crave or their climb to the stone gallery will be a bit delayed there is one statue I cannot walk past and ignore.
Dr John Donne, father of the metaphysical poets was born in 1572 in the City of London in Bread Street. Well within the sound of the bells of St Mary le Bow and a stone's throw from St Paul's Cathedral. He was the cockney Catholic poet who became the Anglican Dean.
Donne's statue is the only one to stand on both the current and previous Cathedral floors. When the Great Fire of London reached the roof of old St Paul's its lead melted into the building, the floor gave way and Donne was later salvaged from the rubble. The statue was then left in the crypt of the new cathedral where it stayed for many years before being given its current niche in the Dean's aisle.
During WW2 Donne was stored in the crypt for safety and in his book 'St Paul's in Wartime' Dean Matthews tells how he slept beside his stone predecessor – possibly hoping that since Donne's statue had made it through the Great Fire of London they would both make it through the Blitz – often called the second Great Fire.
Donne the man and Donne the statue both fascinate me. In February 1631, Donne delivered the Lent service at the Palace of Whitehall, looking so ill that it was thought of as almost his own funeral sermon (later published under the title 'Death's Duell'). In March he orchestrated his own memorial with props used when he was sketched for a statue. A carpenter created a mock urn, and Donne rose from his sick bed and wrapped himself up in a winding sheet. His idea was to be shown as if on the day of judgement, rising from his funeral urn. He was so pleased with the drawing, done on a life size piece of board, that he kept it with him in his room – his death's head at his bedside. He died on the 31st March 1631.
When the artist Nicholas Stone completed the statue he was kind to the Dean, showing him looking serene, almost seraphic, and a lot less the gaunt figure of Stone's engraving to be seen in Westminster Abbey.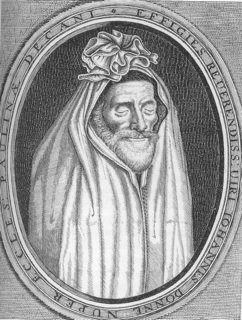 Long before Byron was breaking Caroline Lamb's heart and earning the epithet she coined to describe him as 'mad, bad and dangerous to know', John Donne was the bad boy poet of the Elizabethan age; a man of many parts and contradictions.
A serious student at Oxford he left without a degree to avoid revealing his Catholic faith. Promiscuous in his youth he was a romantic poet who never saw himself as such and in fact was faintly contemptuous of the poets of his day. A student at Lincoln's Inn who sailed to Cadiz with the Earl of Essex he also worked for Sir Thomas Egerton, Lord Keeper of the Great Seal and member of the Queen's Privy Council. Donne walked a narrow line through the religious minefield of the 16th and early 17th centuries to become a 'made man' – then he threw it all away for love.
John Donne, Anne Donne, Undone – his words, written in irony, were prophetic. Jail, penury and ostracism followed his secret marriage to Anne Moore, Thomas Egerton's niece.
But – he never stopped writing or questioning the religious and moral certainties of the day. Henry of Navarre was the Huguenot who declared that Paris was worth a mass and converted to Catholicism to take the throne of France. John Donne reversed this ideal and converted to the Anglican faith to protect himself and his family. He became the Dean of St Paul's Cathedral and his sermons are held up as some of the most enlightened ever written.
His words, including the phrases 'No man is an island' and 'For whom the bell tolls' – have become part of our language http://www.online-literature.com/donne/409/
Come and visit him at St Paul's – his urn has one broken handle and it still bears the scorch marks from over 300 years ago – but John Donne is still standing – not only as a link to the Cathedral's past but as a standard bearer for religious complexity and compassion.
Jill Finch January 2015
To get another angle on John Donne visit the Virtual Paul's Cross website where there is a recreation of his Gunpowder Day sermon from November 1622 – go to
A new bronze bust of John Donne now stands in St Paul's churchyard showing him looking east towards his birth place, Bread Street.
The sculpture forms part of my Wren Watching walk which will be on the Footprints Calendar in March 2015