No better resort than the Mitre in Chancery Lane
No better resort than the Mitre in Chancery Lane
January 17, 2015
Comments Off

on No better resort than the Mitre in Chancery Lane
Rob Smith looks at how an advert for a Victorian pub tells us about drinking habits in 1888. If you are interested in food history come on Rob's walk that looks at the Food History of Islington on February 26th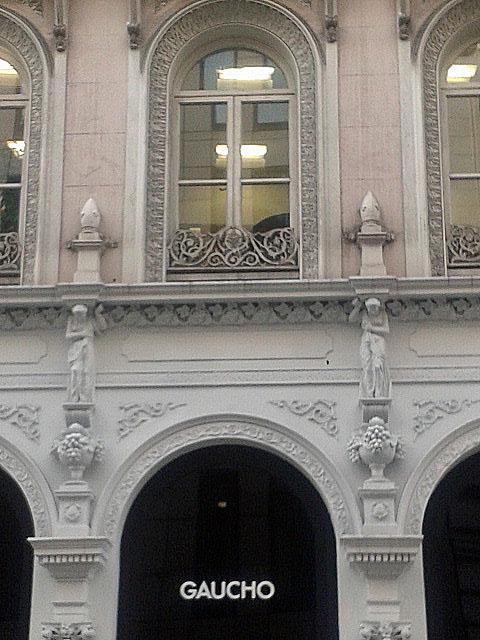 If you've ever visited the Gaucho restaurant in Chancery Lane you may be curious as to why it has a bishops mitre on the outside of the building. The building was constructed in 1855 as the Mitre Tavern, one of many pubs of that name in London, indeed it's not far from one of my favourite London pubs Ye Old Mitre in Ely Court. This particular building does seem to differ from standard pub design however. Designed by architect George Legg, its an Italianate design covered in stucco that was all the rage in the 1850's – incorporating mitres into the decoration of the building. The large shop front windows are unusual for a pub. It was popular with people working in the legal profession, as a place to meet clients.
The current building replaced an earlier Mitre Tavern which was badly damaged in a fire in 1829, which had previously been known as Joe's coffee house. It became the Mitre Tavern in 1788 after another Mitre Tavern in Fleet Street was pulled down to make way for a bank. A blue plaque still marks the spot.
The Fleet Street Mitre Tavern had been a popular meeting place for poets and writers. Boswell was entertained there by Dr Johnson – to Boswell's obvious delight.
"We had a good supper, and port-wine, of which he (Johnson) sometimes drank a bottle. The orthodox high-church sound of The Mitre—the figure and manner of the celebrated Samuel Johnson—the extraordinary power and precision of his conversation, and the pride arising from finding myself admitted as his companion, produced a variety of sensations, and a pleasing elevation of mind, beyond what I had ever experienced." – Boswells "Life of Johnson"
The landlord of the Chancery Lane Mitre Tavern, a Mr W Drew, seems also to have dabbled in poetry of a less accomplished kind. In November 1888 he pens a poem to advertise the Mitre Tavern in The Sporting Times. While not a great poem it gives an idea of what was being served in a high class Victorian Tavern
There's an Abbey that stands in Chancery Lane

Quite Close to the Street of the Fleet

And its Abbot's a man whose perpetual plan

Is to give us good drinks and good meat

It's handsome in shape, and its gates are agape

To welcome in layman or friar

When you've got through the door you are on the ground floor,

But for lunch you must go a bit higher

If you'd tackle a steak, or your luncheon make

Of something a trifle lighter

Just run down to Drew, and he'll see that you

Have got what you want at the Mitre

In the cellars below, there is St Marceaux

De Lossy, and vintages rare

Good Burgundy, Hock, and a plenteous stock

Of similar throat-wetting fare

On the best of all, be you great or small

You can drink and smoke and feed

For to sell your self what he takes for himself

Is the Abbot's ingenious creed

If you'd damp your throttle, by cracking a bottle

Be it claret, sauterne or champagne

Old Burgundy, port – no better resort

Than the Mitre in Chancery Lane 
St Marceaux was a champagne house established in Reims in 1837 – by the 1880s it was a very fashionable champagne, having famously been served at Abraham Lincoln's inauguration. It is still available today, though the company merged with other champagne makers in the 1950's. Similarly De Lossy Holden was another popular champagne brand of the 1880s its adverts boasting of how it was supplied to numerous regimental officers messes. Burgundy wine has been imported into London since medieval times, but in 1861 a classification system had been introduced which clearly marked the higher quality Burgundy wines, so their appreciation in higher class establishments increased as better quality was guaranteed. In the 1880s any German wine was known as hock – short for Hochheim – home of a famous German vineyard which Queen Victoria had visited in 1850. The use of claret for any red Bordeaux wine is a similar British inaccuracy, the name derives from Clairet which is a rose Bordeaux. Claret has been a popular wine in London since the time of Henry II – whose empire expanded to take in the wine making areas of Bordeaux. Sauternes is another wine from Bordeaux but wasn't popular in England until the very late 18th century. It was more common in Holland and it is likely that the English gained a taste for it there. Port began to arrive in London in the early 18th century when war with France meant that Bordeaux was difficult to come by. The Methuen treaty of 1703 allowed import of wine from Portugal at low levels of taxation, and fortified Port wine survived the sea journey particularly well.
I wonder what Drew would make of Gaucho? Pleased to see his lovely tavern still offering business lunches to the legal profession and still selling steaks I expect. They still serve Champagne – though Veuve Clicquot and Krug are the brands today, while much of its wine comes from Argentina. Much Argentinian wine is derived from Malbec grapes which were introducedfrom Bordeaux – so perhaps Drew would be familiar with the taste!