Mr Selfridge
February 1, 2015
Comments Off

on Mr Selfridge
Mr Selfridge is back on our TV screen and Stephen is back doing his West End department stores walk: "Mr Selfridge and his competitors" – Sunday 8 February at 11.00 and Thursday 19 October at 14.00.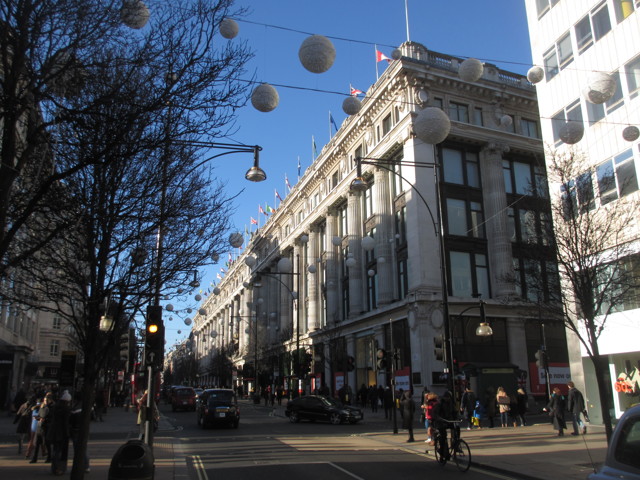 If you watch the credits of the TV series Mr Selfridge carefully you will see that it is based on a book called "Shopping, Seduction and Mr Selfridge" by Lindy Woodhead. However if you read this book you may be disappointed to discover that most of the characters who appear on screen are never mentioned in the book. One can only assume they were made up to make good television. But curiously the one thing people think is wrong with the series is really true, and that is the representation of the store building itself.
A mock up of the exterior of the store was created at Chatham Dockyard but it looks much smaller that the store you see today on Oxford Street – perhaps only about half the length. You might think this was the TV company saving money. But no. The TV series started the Selfridge story in 1908 and in the current series, we have now got to 1918. And at that period just the eastern 9 bays of the frontage had been built, so the set is right. The façade we see today was only finally finished in 1928.
To learn more about the great stores of the West End, join Stephen on his walk on Sunday 8 February at 11.00 or Thursday 19 October at 14.00.