The Day the Tate flooded
May 25, 2015
Comments Off

on The Day the Tate flooded
Jen Pedler talks about the 1928 flood which features in her 'Three Bridges, Two Palaces and One River' walk on Sunday 31st May.
When Whistler painted his mural The Expedition in Pursuit of Rare Meats in the restaurant of the Tate (Britain) he anticipated that it would have to resist the rough and tumble of daily restaurant life such as food, drink and tobacco stains.
Little did he realise that it would also have to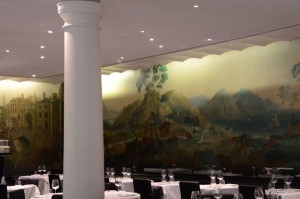 survive being immersed in eight feet of water, but six weeks after its unveiling at a gala reception on 27 November 1927 that was exactly what happened.
Just after midnight on the night of 7 January 1928 an exceptionally high tide raced up the Thames, its flow aided by recent dredging in the Port of London.  This was met by an unusually strong rush of water flowing downstream caused by heavy snowfall followed by a rapid thaw in the Cotswolds and the resulting surge overtopped the embankments in many places.
There was flooding from Southwark and the City in the east to Hammersmith and Putney in the west, water once more filled the moat of the Tower of London, the Palace of Westminster was flooded and there were several feet of water in Palace Yard.  But, most dramatically, a 75-foot section of the Chelsea Embankment just in front of the Tate Gallery collapsed.
A tidal wave of water poured across Millbank inundating the surrounding tenements, tragically drowning many of the inhabitants of basement flats (10 of the 14 deaths resulting from the flood were in this area).  It also streamed into the Tate, flooding the lower galleries to a depth of between five and eight feet.
Staff spent the rest of the night and the next day wading through freezing water to rescue the art work – most of which was saved.  Three days later, when the water had subsided, they were able to enter the restaurant.  The walls were coated in mud from the receding water and everyone expected the worst and that the mural would be ruined.
But miraculously, once the mud was washed off, it was found to have survived almost undamaged, saved by the coating of wax and turpentine that Whistler had applied expecting it only ever to have to withstand the workaday hazards of restaurant life.
Little could he have known about the extreme test his defences would be put to, but looking at it today it's hard to believe that it was once submerged for three days by the less than crystal clear waters of the River Thames.
You can hear more fascinating stories about the 1928 flood and other tales of the river between Westminster and Vauxhall Bridges on Jen's 'Three Bridges, Two Palaces and One River' walk coming up next Sunday, 31 May.