The Great Tailors of London: Anderson and Sheppard
The Great Tailors of London: Anderson and Sheppard
June 1, 2015
Comments Off

on The Great Tailors of London: Anderson and Sheppard
Michael Duncan talks about Anderson & Sheppard – one of the tailors in his walk Suited and Booted – Savile Row and the Birth of British Style on 9th June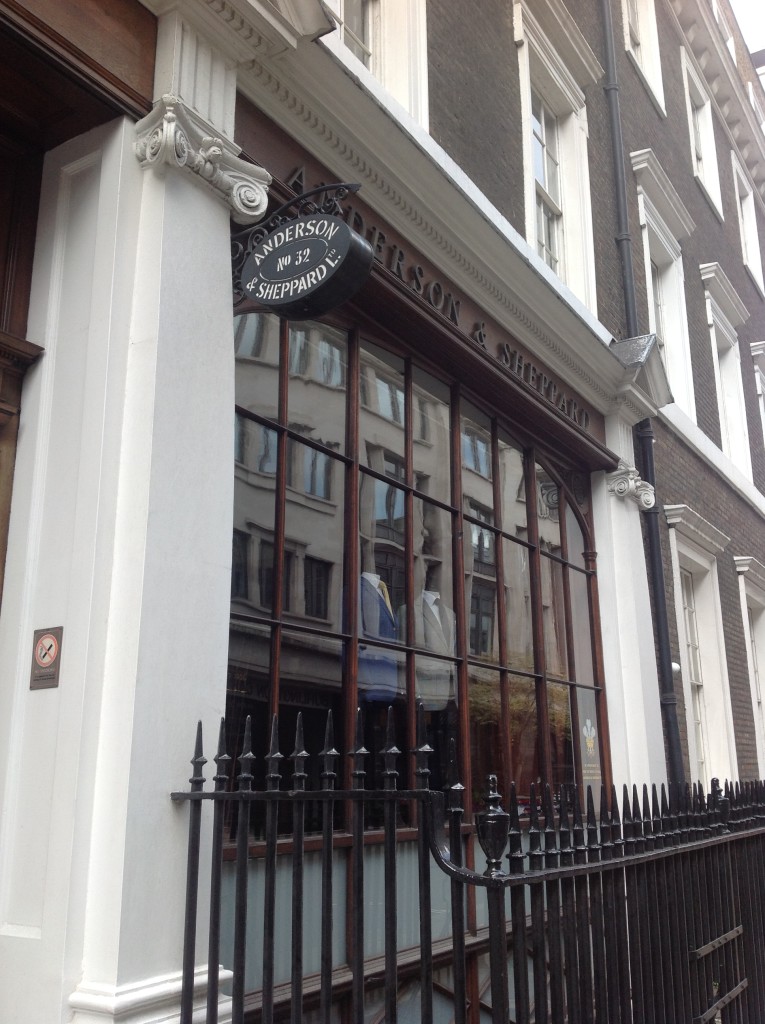 Tom Ford is quoted as saying that Anderson and Sheppard is the best tailor in the world.  And who would dare dispute a man of such taste? But A&S is a relative newcomer to the world of Savile Row,  where it spent most of its years before moving to its current premises on Old Burlington Street.But what makes this Johnnie-come-lately so special..after all it's only been on the scene since 1906?
A&S were the revolutionaries of their time.  The sign outside their shop branded them clearly as "civil tailors".  The other establishments on the Row had their roots in military tailoring…look at Gieves and Hawkes at No 1 for instance or Meyer and Mortimer on Sackville Street.And this very English revolutionary really wasn't that English at all. 
It all started when a young radical Dutch tailor called Frederick Scholte pitched up in London at the start of the last century and started to train up a young Swedish tailor called Per Anderson.  (Anderson would later team up with a skilled trouser cutter called Sidney Sheppard to found A&S). Until the arrival of Scholte the English suit was neatly fitted with its style firmly derivative of military tailoring.
But take a look at the A&S suit…now the classic English suit. Compare it to what came before as well as what the Italian cut is today. It's known as the English drape.  It has a softer look, the shoulder is sloped and not padded, the silhouette described as limp (but not in a bad way!).  
The "drape" of a coat is the way a Saville Row cutter describes how a jacket hangs from the shoulders.  Frederick Scholte liked to cut his jackets generously over the shoulder blades and chest so the fabric would gracefully hang from a gentleman's body.   Scholte also liked plenty of room in the upper sleeves, to allow comfortable movement.  The trick was to cut the armholes high and small to hold the jacket into place and prevent the wearer from looking as if he was wearing a sack.  By doing this the jacket would be held in place when the wearer lifted his arms and the collar stay snug to the neck. Need a better idea of what it looks like?  Well think Prince Charles in a double-breasted suit or Brian Ferry draped round someone at a fancy club:  the odds are that they are wearing Anderson and Sheppard.
For A&S to become the most famous proponent of this so called "Scholte style" was no easy achievement.  Anderson started business in 1906 and it was only in the late 1920's and 1930's that the English drape came into fashion. But Scholte not only gave A&S a style to work on.  He also helped them by being difficult. Scholte took a dim view of show-business people.  But the Anderson and Shepperd boys weren't so stuffy. So come on down Noel Coward, George Gershwin, Richard Rodgers, Ivor Novello and Cole Porter. And not forgetting Fred Astaire who was a regular paying from 1923.
But you couldn't just walk in. You had to have a reference from an existing customer; more a way of vouching that the new customer could pay his bills.  So looking through the record we see that Noel Coward vouched for Laurence Olivier and Douglas Fairbanks Jr. vouched for A&S's most famous woman client, his lover , Marlene Dietrich.   So A&S don't discriminate when it comes to gender….you just have to want a man's suit.  And Marlene loved her men's suits. An A&S suite does not come cheap….your first bespoke one will set you back a comfortable £4000, but they are expected to last.  A ten year old suit is considered new in the rarified world of A&S.  
Prince Charles married Camilla Parker Bowles in a 13 year old A&S morning suit.  And downstairs at A&S, suits go for a adjustments and tweaks after decades of  service. According the "The Rake" that modern arbiter of all things stylish,  " The firm's soft drape suit represented the modern era's most significant revelation in men's tailoring – a sartorial reformation, if you will. Anderson & Sheppard's heretical approach rocked the tailoring world, ….…  An Anderson & Sheppard suit clad the wearer in perfect nonchalant elegance, while providing a never-before-attained level of mobility and comfort.  It was truly a revelation."