All Hallows Staining
July 22, 2015
Comments Off

on All Hallows Staining
Paul Surma looks at a relic of Medieval London – you can find out more on his walk on 8th August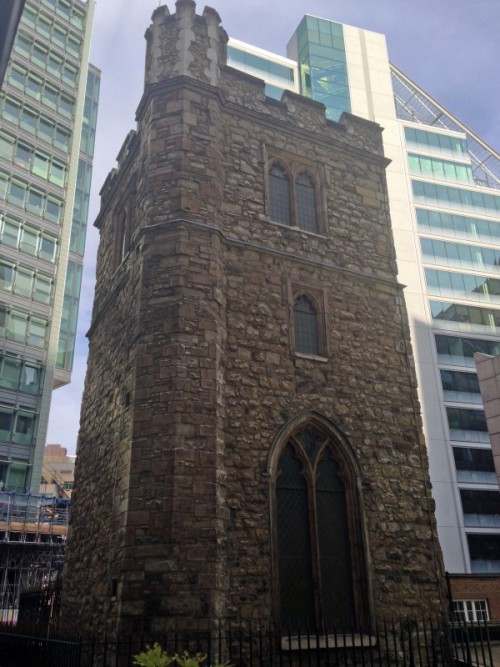 Standing defiant, in the face of an ever rising City, dwarfed by high-rise office blocks on Mark Lane is the near 700 year old tower of All Hallows Staining – a true survivor of Medieval London.
The name 'All Hallows' refers to a Christian feast day honouring all the saints, celebrated 
on November 1.
'Staining' derives from 'Staniggencherch' or 'stone church', distinguishing itself as a prosperous parish, able to afford such a material at a time when many parish churches were still made of wood.
The church itself is long gone, although surviving the Great Fire of 1666, that so many were buried and with the immense heat from the flames, the structure was so badly weakened it stood definitely for five years before collapsing in 1671, making it one of the last structures destroyed by the fire.  Promptly rebuilt in 1674 it continued being used for a further 200 years, before it was made redundant after parish boundaries were changed.
The church was sold to the Clothworkers Company in 1870 who have preserved the Tower ever since the church was demolished.  Within the next eighty years the church would return briefly whilst the nearby St Olave's was restored after severe bomb damage during the Second World War.
Lying safely beneath the tower is a 12th century crypt, moved from St James' on the Wall when it was demolished in 1873, keeping its heritage safe and sound.
Out of the way and dormant, this tiny tower holds a great history and is an amazing example of a survivor within a world of glass skyscrapers and steel structures, but once this tower dominated the landscape and brought awe to those who passed it too.
To hear more about other great survivors of the Medieval times, their stories and how they form part of the heritage of London, why not join Paul Surma on his 'Relics of Medieval London' walk on August 8 at 3pm, where you'll see that Medieval London isn't as distant as you thought, and these century old buildings are tougher than they look.