What is this statue of a huntsman doing in Croydon?
What is this statue of a huntsman doing in Croydon?
July 28, 2015
Comments Off

on What is this statue of a huntsman doing in Croydon?
Just along the road from East Croydon station is a statue of a huntsman on a horse jumping over a real hedge. Why is it here you may well ask.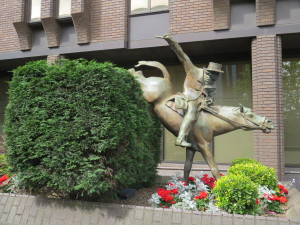 There is no plaque of any kind but Stephen Benton, when researching his new walk in Croydon, was determined to find out the background to this statue.
It turns out to be 19th century fictional character called John Jorrocks and it was commissioned by the development company, Waites, in 1982. Jorrocks was created by a man called R S Surtees and so Stephen contacted the R S Surtees Society to ask if they knew why Jorrocks was here in Croydon. They could not help.
So Stephen then tracked down John W Mills, the sculptor (We are nothing if not persistent here at Footprints!). And this is what he said in his emailed reply:
"Waites Construction were certainly involved pursuing their policy, at that time, of including commissioned sculptures in some of their significant sites. Paul Waite had a particular liking for R S Surtees' writing and was taken by the notion of the 'Surrey subscription hounds gathering for their hunt at Croydon and the chaotic ride that John Jorrocks made from Covent Garden to join the hunt.
The sculpture owes its imagery to discussions between Paul Wates and myself and my gallery pertaining to making a large bronze equestrian piece, with some humour in its story telling, which suited me and 'Jorrocks' is the result including the laurel hedge. The bronze was cast at the Meridian Foundry, now long gone, but then not far away in Peckham.
The Council back down on an unveiling ceremony because the 'anti bloodsports' lobby threatened action so it was placed on site during one night. This sculpture started me off on a number of large equestrian sculptures, both here and in the USA, which continues to this day as my website illustrates."
So there we have it from the horse's mouth so to speak!
By the way other works by John W Mills you may well have seen, include the National Fire Fighters Monument (on the south side of St Paul's Cathedral) and the Women of World War II (in the middle of Whitehall). Neither though feature horses.
To find out more fascinating facts about Croydon, join Stephen on his Hidden History of Croydon walk on Sunday 2 August and Thursday 6 August.
Book at: http://www.eventbrite.co.uk/o/stephen-benton-footprints-of-london-4468162721?ref=ebtn