Plantation Lane
September 21, 2015
Comments Off

on Plantation Lane
Paul Surma talks about one of the City of London's newer alleyways that features in his Hidden Streets and Alleys of the City Walk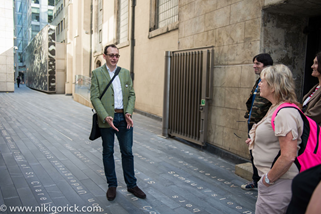 The City of London is full of sharp turns, dark corners and narrow alleyways, many of which have been there since the Medieval times and longer.However the City of London has had a new addition to its ancient alleys and Plantation Lane has only existed since 2005. It is a piece of public street art which creates a totally unique pathway through one of the oldest part of London.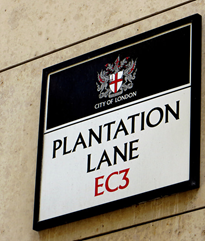 Along the lane you'll find laser cut text representing different timelines through London's history, from the hierarchy of the Freemasons, general miscellanea, to Saints and their respective patrons and a whole lot more.

The design for the lane is a collaborative project by Arup Associates and 1996 Turner Prize nominee: Simon Patterson. Through the use of art, light, architecture and language there has been created something so seamless, so unique that it's hard to imagine anything else in London, possibly the world coming close to this.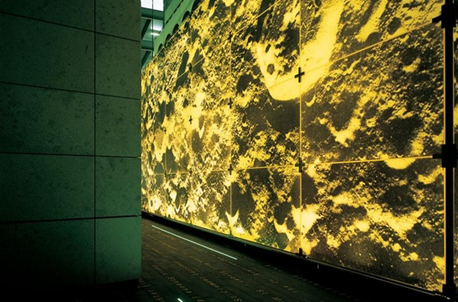 Picture Arup Associates
Especially added to the fact that it's one of the only place you can get up close and personal with a high resolution close up image of the Moon's surface – 41 meters long and six meters high, with the text beneath it, it is a constant symbol and reminder of our connections to the past and the ever changing world we live in but the constant's which have been ever present for our forefathers.
One could almost spend an entire walk standing on Plantation Lane discussing and being entertained on the various points along the way, from the Battle of Hastings in 1066, the Great Fire of London in 1666 and Blitz of 1940/41. However on Friday 16 October at 19:00 Paul Surma will be hosting a walk which dares to walk through as many of the alleys the City has to offer, from the darkest, the oldest and the most modern and the most impressive things to remember about the streets in the City is that quite a good number of them are named after the produce which traders once supplied to the population of London.
But on Plantation Lane there are the names of ancient streets longer forgotten, as are their trades:


To walk the ancient streets of London, to shoot down their narrow, dark cobbles and delve into their sordid backstory of their names join Paul Surma on his upcoming walk: Hidden Streets and Alleys of the City on October 16 at 7pm or if you'd rather not venture into the City at nighttime, it is also repeated on Sunday 7 November at 2pm.
Book your place today: https://www.eventbrite.co.uk/e/hidden-streets-and-alleys-of-the-city-tickets-18085915460