Building Styles in Poplar
Building Styles in Poplar
October 20, 2015
Comments Off

on Building Styles in Poplar
Andrew Parnell discusses the various styles of building adopted in Poplar, East London, in the massive redevelopment of that area in the 20th century which feature in his walk "Stock Bricks to Brutalism: Housing Design History in Poplar".
The 20th century saw massive programmes of redevelopment in the East End of London, sweeping away great swathes of 19th century housing which planners saw as unfit for modern living but many residents regarded affectionately as home. Between the wars, the Poplar Borough Council and the London County Council built a total of about 1,500 new homes in the area. The prevailing style of building for much of that period was called "economic neo-Georgian" with (originally wooden framed) sash windows, higher than they were wide, as seen here in the Will Crooks Estate built between 1936 and 1939.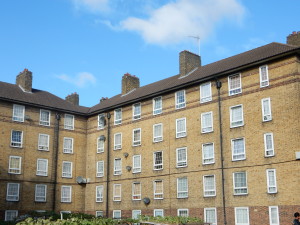 However, the Poplar Borough Council, at around the same time, was adopting a more fashionable "moderne" style which would not look out of place in an episode of Poirot.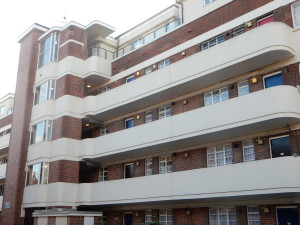 Well before the Second World War was over, plans were drawn up for redevelopment once peace arrived, set out in the 1943 County of London Plan, which earmarked an area of 1,500 acres as the "Stepney/Poplar Redevelopment Area", divided into numbered new "neighbourhoods".
Neighbourhood 9, of 124 acres, became the Lansbury Estate: celebrated in architectural and planning circles because the buildings of its first phase — housing, schools, a market place, all low rise, intimate, human in scale — were used as the Live Architecture Exhibition in the Festival of Britain in 1951.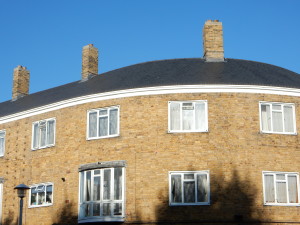 Even later phases of Lansbury only followed the high rise trend to a modest extent. Poplar did, however, see radically modernist building in the 1960s and 70s, first in the Brownfield Estate where the LCC commissioned the architect Erno Goldfinger who designed the iconic Balfron Tower in the Brutalist style. Images of this block of flats were often used by directors of films and videos to convey a sense of urban deprivation.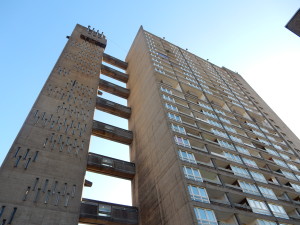 Balfron Tower is now about to be refurbished and the flats it contains sold to private owners.  No such happy ending seems to await the other Brutalist estate in Poplar, the notorious Robin Hood Gardens, designed by Alison and Peter Smithson and much admired in architectural circles, which is scheduled for demolition.