Highlights of Literary Footprints
Highlights of Literary Footprints
October 31, 2015
Comments Off

on Highlights of Literary Footprints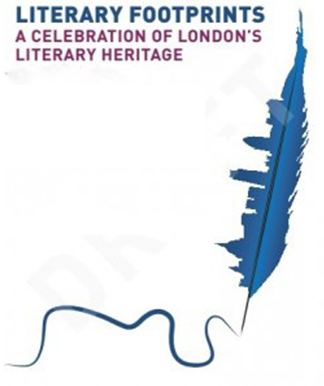 Literary Footprints – our festival of walks celebrating London books and authors ran during October, and attracted a record number of people on the walks.
We had some great feedback from the people who came, and people who went on multiple walks say they loved visiting a place more than once and hearing the different ways authors had written about them.
Our favourite comment though came from Shun-yu Pai who was kind enough to describe our walks as being like "walking documentaries".
Thank you to everyone who participated, we had enormous fun putting the Literary Footprints Festival together and the Footprints of London guides will be burying their heads in yet more London fiction so that we can put together an even bigger and better Literary Footprints Festival in 2016.
For now, here are some pictures from some of this year's walks.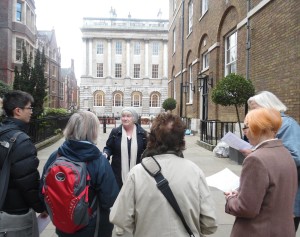 Jill Finch showed people the places that Tudor lawyer Matthew Shardlake visits in C J Samsom's series of books. Here's what one person said about the walk.
"Good to get a sense of London in Shardlake's time. Guide Jill Finch conveyed enthusiasm for the series by C J Sansom and was able to highlight the ever changing politics of religion which is central to the period. I also enjoyed being with a group who knew the books well." 
Mark Rowland took guests on a route following the footsteps of Charles Dickens on one of his Night Walks through the streets of London – which CW described as
"an atmospheric walk following Dickens on his wanderings through the City – Mark was brilliant at creating the stories at each stop and it was easy to imagine the boy Dickens trudging through the streets to work and the adult Dickens scribbling notes as he walked the night"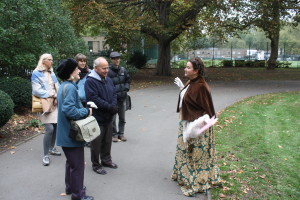 Amber dressed in period costume to take on the role of Jane Austen's Emma.  Rob, one of her guests wrote:
"Seeing Amber dressed as Emma outside Russell Square tube station was a pretty arresting site! It reminded me of when Oscar Wilde sees Ellen Terry dressed as Lady Macbeth in a street in Chelsea – for him the street could never be the same again!. Amber did a fantastic job of showing how Emma is still relevant to peoples lives today"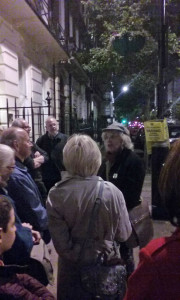 Half way through Jen Pedler's Sherlock Holmes – The Return walk one of the walkers said:
"We have been up and down so many alleyways and mews I'm now completely lost" And that was very much how Dr Watson felt in "The Adventure of the Empty House".
Jen was aiming to recreate the twists and turns Holmes and Watson take around Marylebone to escape their pursuers in the book.
Jill Finch received this comment about her The City By The Book walk
Thanks for another enjoyable walk yesterday.  Only later did the symmetry of it strike me – near the start you talked about Chatterton – the subject of a Peter Ackroyd novel – and near the end you talked about Hawksmoor – Peter Ackroyd again.  And I was prompted to re-read the 16th century Scottish poet William Dunbar's poem about London, with each verse ending "London thou art the flower of cities all".  To say the least it's bit over the top, but Dunbar was writing to flatter his English hosts, so perhaps it's forgivable, and it does give some kind of an idea of what bits of London must have been like.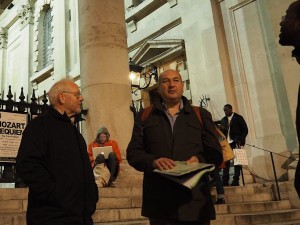 Rob Smith's walk London Destroyed took an alternative view of London's landmarks, through the eyes of science fiction writers who have made the destruction of London the theme for their books.
AL wrote:
"An unusual and enjoyable way of looking at some London events, both real and fictional and many thanks for the attached booklist."
Stephen Benton kicks off his walk Made in Chelsea,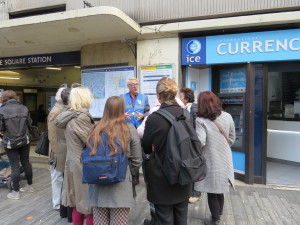 which looked at writers who lived and worked in the area.
KW wrote:
"A very interesting walk around some of the places in Chelsea lived in by (or otherwise associated with) artists and writers. Helpful potted bios of each writer or artist, told with enthusiasm and appropriate humour."
Do let us know if you have any comments about Literary Footprints and if you went on one of the walks and want to leave a review (for which we would be hugely grateful!) you can do so on our tripadvisor page.