Ian Fleming
October 28, 2015
Comments Off

on Ian Fleming
As Spectre, the latest outing for 007 hits our cinema screens Michael Duncan talks about the life of James Bond author Ian Fleming. You can hear more in Michael's walk James Bond and the Spies of Mayfair which he runs regularly.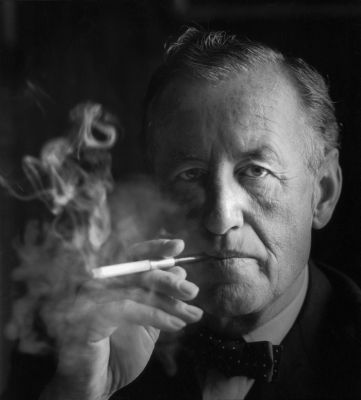 Just off Park Lane,  you will find No 27 Green Street where Ian Fleming, the creator of the world's most famous spy, James Bond, was born in 1908.
Born into a family with plenty of cash, Fleming was the grandson of the banker Robert Fleming.  
Young Ian was sent to Eton, excelled at sport, but fell foul of the headmaster who took a dim view of his love of cars, girls and hair gel.
While not exactly expelled from Britain's most prestigious school, he was encouraged to go to a crammer where he scraped enough qualifications together to get into Sandhurst, where he did succeed in getting thrown out after contracting gonorrhoea.
Failing to get into the Foreign Office, and hating work at the family bank , he finally became PA to the Head of Naval Intelligence and then after the war ran a team of correspondents for the Kemsley newspaper group which at that time published the Sunday Times. And it was through these two jobs that he got part of the inspiration for the lifestyle Bond would live.
Fleming's own lifestyle was to say the least, complicated.  
He would disappear off to Jamaica to spend time with his mistress, while his wife Ann had an affair with the Labour leader Hugh Gaitskill.  
Both he and Ann loved S&M and visitors to their house Goldeneye would wonder how they got through so many cool, wet towels (they used them to sooth the pain of the whippings they gave each other).
I've read no evidence that the fictional Bond enjoyed similar sexual tastes to Fleming, but he certainly had a high pain threshold.  And like Fleming,  Bond smoked, drank and gambled to excess.
And while Bond lives on,  Fleming died of a heart attack at the relatively early age  56 in 1964.  He clearly hadn't taken on board the warning "Don't try this at home".  
Join Michael for James Bond and the Spies of Mayfair on November 7th.