The D.I.Y. Prison
October 13, 2015
Comments Off

on The D.I.Y. Prison
Jen Pedler talks about Wormwood Scrubs Prison – which features in her Literary Footprints walk called "Stuart's First Walk"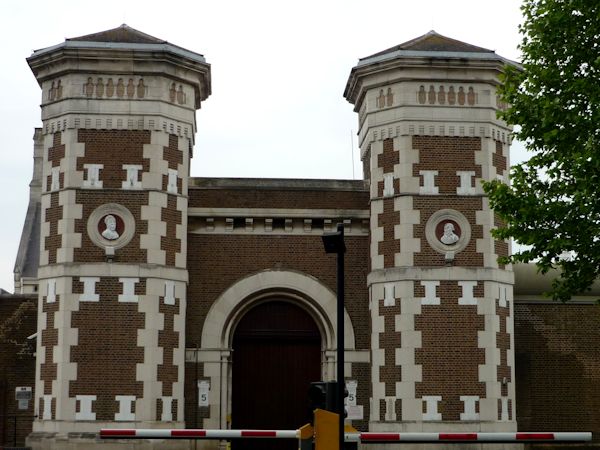 On the first day he set out to walk every street in the A-Z, jaded tour guide Stuart London found himself outside Wormwood Scrubs Prison.
"In some ways it was much as expected, with forbidding brick walls and towers and barbed wire, but its location was not at all as he'd have pictured it. He somehow felt that prisons would be located in the middle of nowhere, away from people and civilization. Wormwood Scrubs, however, was situated on a main road, on a bus route, near shops and a housing estate and a railway line. The prisoners could probably look out of their cells and see the buses and trains going by. It felt all wrong." (Bleeding London)
But Stuart was there in the 1990s; when construction of the prison began in 1874, none of those things were there.  Initially nine specially picked prisoners, within year of release, were brought to erect a corrugated iron hut – the first cell block – and a temporary shed to house warders.  The following year 50 more prisoners were moved in to erect a second temporary cell block. They then began to build the permanent prison with bricks manufactured on site. Building was completed 1891.
The iconic gateway, so often used in TV and film, depicts penal reformers Elizabeth Fry and John Howard. What would they have made of the 2014 prison inspectors' report which found it filthy, overcrowded and dilapidated, plagued by violence and idleness? And who can imagine the prisoners of today being told to build their own prison?
Hear more about the prison and some of its infamous inmates, as well as other places Stuart encountered in his expedition around North Kensington, in Jen's 'Stuart's First Walk', inspired by Geoff Nicholson's 1997 Whitbread nominated novel Bleeding London. Friday 16 October, 2pm, part of the Literary Footprints Festival.