The Unhappy Couple
October 19, 2015
Comments Off

on The Unhappy Couple
Stephen Benton discovers another story related to his Made in Chelsea walk, part of the Literary Footprints Festival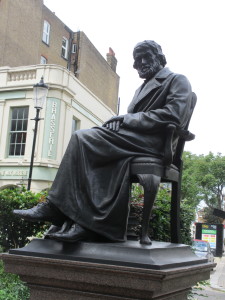 One of the writers covered by Stephen in his Made in Chelsea walk (Saturday 24 October at 11am) is Thomas Carlyle.
Carlyle's statue sits on Chelsea Embankment near the house he lived in for almost 50 years. First opened to the public in 1895, here is an early example of a house with literary connections being preserved (the National Trust took over ownership in 1936).
Carlyle wrote extensively and was known as "The Sage of Chelsea". His history of the French revolution was one of the key sources for Charles Dickens when he wrote A Tale of Two Cities.
Thomas Carlyle had a long and tempestuous marriage to Jane which was punctuated by frequent quarrels.  Indeed fellow writer Samuel Butler wrote:
"It was very good of God to let Carlyle and Mrs Carlyle marry one another, and so make only two people miserable and not four".
This is just one of Chelsea's literary characters you will meet on Stephen's Made in Chelsea walk.