The Nelson's column less well known
The Nelson's column less well known
December 4, 2015
Comments Off

on The Nelson's column less well known
Richard Watkins is raising money for The Connection at St Martin-in-the-Fields by donating the proceeds of his walk A Trafalgar Square Travesty to this fine charity who do fantastic work helping London's homeless find their feet.
As a little teaser, he tells us about just one of the less well-known aspects of one of the world's most famous squares you will discover on his walk.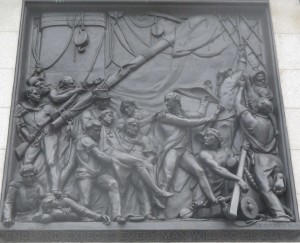 If you stand at the base of the South side of Nelson's column (the side that faces down Whitehall) you'll be looking up at one of the superb four bas reliefs depicting Nelson's battles.
This one is titled The Death of Nelson and it shows Nelson, fatally wounded, supported by three sailors, with Hardy in attendance too.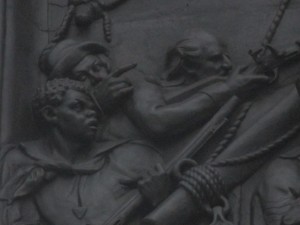 But this is not just an idealised version of history.
We see ordinary sailors working, trying to recover collapsed rigging. And look very closely in the left hand corner, you will see an African man holding a rifle, hoping to pick off the sniper who shot Nelson.
This is thought to represent a sailor called George Ryan who was in the crew in many of Nelson's campaigns.  Many nationalities worked on HMS Victory including those from Africa and the West Indies and this is a rare representation of an ethnic figure being depicted in mid-Victorian public sculpture.
You can go on Richard's A Trafalgar Square Travesty walk to discover many more fascinating details that you may have missed in one of the world's most famous town squares, as well as hearing of the scandal and silliness of the polluting pigeons, protests and pointless plinths.  And you will be raising money for a great cause at the same time.

Check Richard's walks page for dates and booking details.