What might Dickens have made of "Dickensian"?
What might Dickens have made of "Dickensian"?
January 14, 2016
Comments Off

on What might Dickens have made of "Dickensian"?
With Dickensian, the BBC's re-imagining of some of Charles Dickens' most enduring characters well under way, Mark Rowland speculates on what the great man himself might have made of it all.
One of the more gratifying aspects of sharing our love of all things London with the guests on our walks are the fascinating discussions that inevitably ensue during the course of the walk on the topics being covered.
One that inevitably pops up on any of my Dickens walks is: What would he be writing if he were alive now?
The clues are there if we look for them.
Most obviously, he clearly loved a sprawling drama packed with interesting, flawed characters that would allow him to showcase the best and worst of human behaviour to illustrate the ups and downs (and more downs!) of everyday life.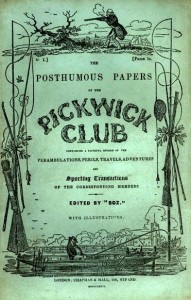 But whilst Dickens is rightly revered as the creator of some of the greatest characters and stories in the English language, he was nothing if not a commercial animal.
At the time he was writing, Dickens knew how relatively few people could afford to buy books (even among the burgeoning Victorian middle classes).  Realising this, in order to reach the widest audience with his work (and make the most money!), he originated most of his work as serialised episodes in various "magazines" long before they saw life in the form of a novel.
So he was no stranger to a good old rollicking serial drama.
I think it is beyond doubt he would have loved TV as a medium to work in.  Personally I'd like to think he would have been drawn to the type of big-hitting, multi-layered and multi-charactered serial dramas that the Americans can be so good at (The West Wing, ER or The Sopranos, for example) or our own home-grown works of serial drama genius such as Our Friends in the North or House of Cards.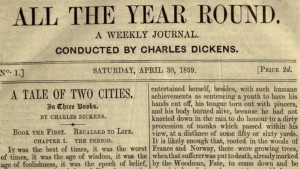 But the conclusion inevitably reached among my lovely walkers is "soap operas".
And you can see their point; everyday life writ large 2-3 times a week through the travails of "ordinary" people with a thousand stories to tell.
Yep, Dickens would have probably been in his element keeping an early evening TV audience on the edge of their seats on a week-in week-out basis.
Which was clearly the thinking of the BBC in commissioning Tony Jordan, the Grand Master of TV soaps and serial dramas, to write Dickensian.
I'm no reviewer, so I won't attempt that, but suffice to say I'm loving it (Stephen Rea's superb portrayal of "Bucket of the Detective" is my current favourite!).
But what might the man himself have thought?
It seems his populist credentials also went further than his publishing habits.  Anthony Trollope, one of his esteemed peers in the Victorian literary firmament nicknamed Dickens "Mr Popular Sentiment" (one of a number of nicknames he garnered during his lifetime, not all of them complimentary…), so even his writing was seen at the time as having a populist bent.
He would have also loved the space the BBC has given for the characters to come alive in.  Not only the impressive scale of the set, but the bold decision to commission a 20-episode series before even one had been screened which showed a great faith in the ability of Dickens' nearly 200-year old characterisations to keep a modern audience enthralled over a lengthy run (all of which would have also appealed to his not inconsiderable ego, by the way!).
So yes, I reckon if you could bring him back for a day and plonk him in front of iPlayer, the populist in Dickens would love what he saw.  And then when you introduced him to his new agent and he discovered the world of spin-off possibilities open to the modern international best-selling author, the commercial animal in him would have been in raptures!
But I'd be fascinated to hear what you think, so please leave a comment below to share your thoughts.
If you want to discover more about the inspiration behind some of Dickens' greatest work and characters, Mark will be doing a weekly running of his Dickens After Dark walk whilst Dickensian is on-air, check his schedule for dates and booking details.  You can read the most recent tripadvisor review of the walk here.