Canvassing with a sailor
February 24, 2016
Comments Off

on Canvassing with a sailor
In the first of series of posts on some of the fascinating characters you will encounter on our walks celebrating International Women's Day, Jen Pedler shares the story of Nancy Astor's journey to becoming our first ever female MP.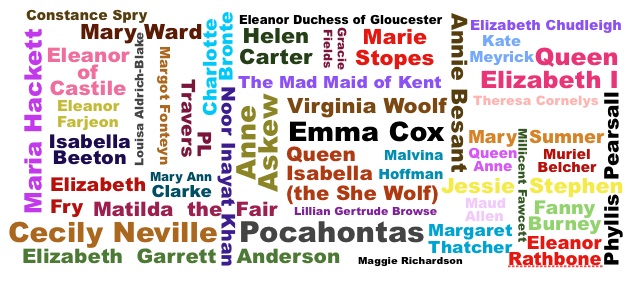 Nancy Astor was the first woman to take her seat in parliament when she was elected as MP for Plymouth Sutton in 1919.  She is commemorated by a blue plaque on the wall of no. 4 St James's Square, the town house where she lived with her husband Waldorf Astor.
Nancy and Waldorf, both American ex-pats, met on an Atlantic voyage in 1905.  They shared the same birthday – 19 May 1879 – but there the similarities ended.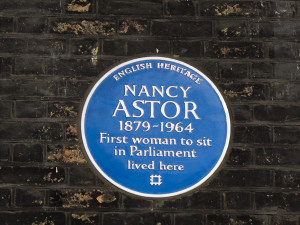 He had been born in New York City, son of the immensely rich William Waldorf, 1st Viscount Astor, and had an aristocratic upbringing since his family moved to England when he was aged 12;  she was a divorced woman with a young son escaping a four-year abusive marriage.
This was a time when many wealthy American women were marrying into the English aristocracy. "Have you come to get our husbands?" an Englishwoman asked her.  To which Nancy, never short of a sharp retort replied "If you knew the trouble I'd had getting rid of mine…".
She married Waldorf Astor a year later.
She encouraged her husband to launch a career in politics and he was elected as MP for Plymouth in 1910.  However, he had to resign his seat soon after as the death of his father in 1919 elevated him to the peerage as 2nd Viscount Astor and he was bound to take his seat in the House of Lords.
Nancy decided to stand in the resultant by-election.  As she was not familiar with the area she was assigned a naval officer to escort her while she was canvassing.
One of the doors they knocked on was opened by a young girl who informed them that her mother was out, but had left the instructions that "if a lady comes with a sailor they're to use the upstairs room and leave ten bob".

Nancy duly won the seat and sat in Parliament as a Unionist (Tory) MP for the next 25 years.
Hear more about Nancy Astor and other powerful, pompous, pioneering (but not always posh) women who left their mark on the exclusive area of St James's (an area better known for its gentlemen's clubs) on our 'Women of St James's Walk' with Jen Pedler (1st March) and Joanna Moncrieff (11th March).