Ann vs. Lucy: Two London women and the English Civil War
Ann vs. Lucy: Two London women and the English Civil War
March 23, 2016
Comments Off

on Ann vs. Lucy: Two London women and the English Civil War
To ease us out of our special series of walks celebrating International Women's Day, Robin Rowles recounts the story of two young ladies who found themselves on the opposite sides of the greatest divide in England's history.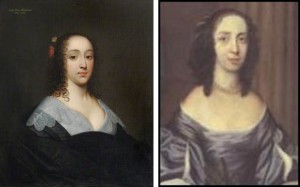 "Behind every great man, there is a great woman". This well-known proverb was certainly true during one of the most tumultuous periods in our history, the 1642-51 English Civil War.
Ann Harrison and Lucy Apsley were born in London just five years apart in the 1620s. Well educated and from families that were well placed in society, both married in their late teens to husbands who were Civil War commanders. Both husbands survived the war, but died within months of each other in the early years of the Restoration of the monarchy from 1660.

Although educated to be ladies, neither Ann nor Lucy quite conformed to those expectations of them. Lucy hated needlecraft and preferred books and study over those arts expected of a gentlewoman and whilst Ann did enjoy her needlework, she was also a self-confessed hoyting girle or tomboy.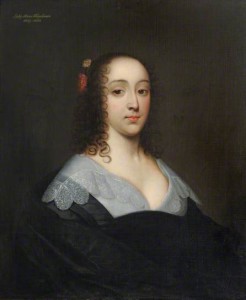 Both enjoyed languages: Ann learned French, the tongue of diplomacy, while Lucy applied herself to Latin, the language of the scholar.
It is quite possible that these two women might have been friends. However, Ann Harrison, born in the parish of St Olave Hart Street, was better known as Lady Ann Fanshawe, a royalist during the civil war. Lucy Apsley was from a royalist family (her father, Sir Allen was Lieutenant of the Tower, a very prestigious position), but married John Hutchinson, a puritan and parliamentarian, at St Andrew Holborn in 1638.
So in supporting their husbands during the civil war and afterwards, these women were enemies.
Ann's husband, Richard Fanshawe was Secretary of War to Prince Charles in the king's army. Like many royalist soldiers after the war, Richard spent most of the 1650s under house arrest and was only released from his bonds after much petitioning from Ann. At the Restoration, Richard served as Charles II's ambassador until his death in 1665/66.
During the civil war, John Hutchinson served the parliamentarians in Nottinghamshire. An early success was securing the county's supply of gunpowder in 1643, a coup which earned John a commission and a seat on the county committee.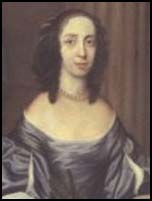 Elected MP in 1646, John was a regicide at the Charles I's trial in 1649 and although he was removed from government after Cromwell's 1653 purge of Parliament, John's work for the young republic marked his fate.
At the Restoration, John was implicated in the regicide, and his life was spared only after considerable petitioning from Lucy's family, the Apsleys. John was released in 1661, but in 1663 was embroiled in a plot against Charles II and imprisoned in the Tower of London, where he died in 1664.
Ann and Lucy survived their husbands until the 1680s and commemorated their husbands in prose. Ann wrote a short biography of Richard, Memoirs of Lady Fanshawe, and also a recipe for ice cream. Lucy published her Memoirs of the life of Colonel Hutchinson, and translated the Roman poet Lucretius's Latin into English.
Both Ann and Lucy's Memoirs were published posthumously and present a relatively unusual history (i.e. from a woman's viewpoint) of the British Civil Wars.
Hear more fascinating stories of how the inhabitants of The City of London became embroiled in the Civil War on Robin's Civil War Connections around St Paul's and Cheapside walk this Saturday (26 March) at 10.30 am, booking details here.