Everything You Know About London is Wrong
Everything You Know About London is Wrong
August 20, 2016
Comments Off

on Everything You Know About London is Wrong
Or at least that is the case according to a new book written by Matt Brown, Editor at Large of the Londonist website.  And as a contributor of over 5000 articles to that august site, he's not the sort of chap you'd argue with in making such a bold contention.
Or is he…?  We thought we best find out!  The publishers have been kind enough to send us a copy for review, but that gave us a couple of tiny dilemmas: First, Matt is a good and valued friend to us here at Footprints towers, so our objectivity might rightly be seen to be a little suspect; second, we're all qualified and experienced London tour guides so most of it really ought not to be a surprise to us (although I use "ought not" advisedly…).
So we thought we'd invite a "lay" reviewer who could look at it with a slightly colder and less trained eye; enter Siân Rowland, author, playwright and theatre reviewer at large (and wife of our chairman, Mark, which also saved us on postage costs!).  Over to Siân.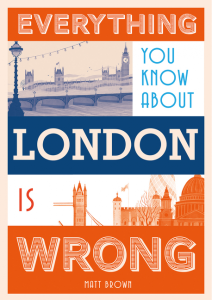 I like to tell the story of when I was crossing parliament square and a tourist tapped me on the shoulder to ask if I knew the time. I smiled indulgently at them and then pointed up to Big Ben, which dominates the skyline around Westminster just as the great clock struck the half hour.
But wait, how accurate is my tale?
We all know that Big Ben is the bell or at least one of the bells. And is the tower called St Stephen's or is that the other one? Didn't it used to be the Clock Tower? So what do we call the actual clock bit?
Somehow I think I'll stick to my original version but the shorthand we use for London landmarks' place names, tales and traditions have been unpicked in Matt Brown's intriguingly titled Everything You Know About London Is Wrong.
Written in short chapters in sections that cover myths to popular culture and famous Londoners to tourist-trap trivia, Matt's style is warm, whimsical and meticulously researched.
In the course of the book we meet Dick Whittington and his non-existent cat (sorry, ailurophiles), learn how to know if the queen is at home and what secrets lurk beneath the city itself. The author even pens a poetic ode to the contactless payment on the city's transport system which reminds us that our supposedly simple touch in and touch out system is actually a conundrum of dos and don'ts.
I thought I knew London pretty well but several of my own pet myths were very much busted, others were validated and yet more were totally new to me.  Author Matt also dispels the untruth that tour guides are full of rubbish, although being married to one I confess to having a vested interest in dispelling that particular myth!
In a mischievous addendum the author – with whom one can imagine sharing a pint and a tall tale* at a City boozer – urges us to start a few new cheeky stories of our own.
This is a hugely entertaining look at the London we know and love. Written with humour and nothing less than love and affection for the Old Smoke, it's a perfect read for resident and visitor alike.
If you need me I'll be the one standing under the Elizabeth Tower telling tourists the time.
Everything You Know About London is Wrong is published by Bantam and available through all the usual outlets.
Siân Rowland's latest play is about the final days of the Romanov sisters and is showing as part of 'Trapped' from Doughnut Productions at The Cockpit Theatre on 28th August. Tickets are available from the theatre's website.
*We can attest that Matt is indeed great fun to share a pint and a tall tale with.