Charlie Chaplin's Kennington
Charlie Chaplin's Kennington
March 2, 2017
Comments Off

on Charlie Chaplin's Kennington
Michael Duncan talks about Charlie Chaplin's London, which features in new walk looking at art and entertainment in Lambeth, which has its debut on March 4th
Everyone knows Charlie Chaplin.  
"Iconic" is one of the laziest words used by writers when they seek to describe something or someone.  But it applies to Chaplin.  The little tramp, in the bowler hat with the toothbrush moustache and odd walk. Recognised even today virtually anywhere in the world.
Whilst the only legitimate child of the Chaplin family, he still managed to forge a reputation for being a bit of a bastard in how he behaved at the peak of his stardom and what he expected from people and women in particular.  There were messy divorces, accusations of abuse, bullied co-stars, badly treated children, miserliness, depressions and rages. 
But both these aspects of Chaplin, the man and the movie star owe a lot to his upbringing in London, and Kennington in particular. 
Kennington was Charlie Chaplin's manor.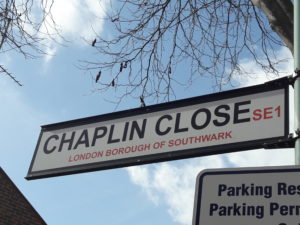 Although born on East Street just off Walworth Road, Charlie Chaplin spent most of his childhood on Kennington Road, moving from flat to flat either with his alcoholic father or mentally unstable mother slipping further and further into poverty. 
Kennington Road forms part of the M23 to Brighton and runs from Westminster Bridge Road to the Oval.  The annual London to Brighton vintage car race chugs down here every year. 
Today it's the home of MPs as well as a fair smattering of arty and media types.  But when Chaplin was a boy it had all the attributes of a slum. Most of the grand houses that line it had been converted into squalid flats and rooming houses and it was home to breweries, pickle factories and worse, tanning plants. 
But smatterings of relative wealth remained. Some of the houses were still intact and pubs such as The Tankard on Kennington Road (now a Grand Union burger restaurant) gave young Chaplin an insight into a better more glamorous life.  It was there that he would be captivated by glimpses of vaudeville stars "dressed in chequered suits and grey bowlers" having a drink before Sunday lunch.  He set his heart on being like them. 
Pubs figured large in Charlie's young life. The Queen's Head on Black Prince Road was run by his uncle and he often used to wander over to amuse his friends by mimicking a strange man who used to collect pennies in exchange looking after cabbies' horses. Rummy Binks was an odd looking chap.  He wore trousers that were far two big for him and had an odd waddling. walk. He was easy to ridicule and was major influence on the appearance of the "little tramp". 
But pubs were at least in part a cause of the poverty facing the young Charlie.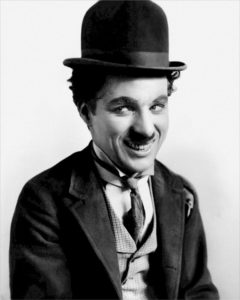 Opposite what is now the Imperial War Museum there's a pub called the Three Stags. It's still one of the busiest in Kennington. Charlie would walk past it often but hardly ever looked in. But one day he would.  There, sitting in the corner was his father, who had split up from his mother.  He beckoned him in and for once showed genuine affection to his son.  But the sight of his father was appalling.  Charles senior, sat bloated, a drink in his hand suffering from the final stages of cirrhosis of the liver.  It was the last time the eleven year old Charlie would meet him. He would die shortly afterwards in St Thomas's Hospital.  
(But Charles Chaplin, Senior, had once been a well paid music hall entertainer, and had appeared at most of London's top venues, including the Canterbury on Westminster Bridge Road.  On stage he was an elegant chap in a top hat with a walking cane in one hand and a glass of champagne in the other.  He would sing songs of everyday life in his fine baritone voice.  But music halls such as the Canterbury made much of their money from selling drink.  And part of the attraction would be for audience members to mingle, drink and chat with the performers after the show.  A practice led to Chaplin Senior's slide into alcoholism and early death at the age of 37.) 
His father's death, and his mother's descent into madness pushed Charlie further into poverty.  
But despite the squalor of his childhood in Kennington he would still come back, when he was the most famous film star in the world.  Sometimes he would be noticed, and there would be a huge commotion. Other times he would manage to slip over the river from the Savoy or the Ritz and spend an evening re-tracing the footsteps of his childhood.   
He could never lose sight of who he was and where he came from.  Kennington was home.   
Hollywood should be grateful for the influence it had on one of its biggest ever stars. A gratitude many of the people he worked with and lived with would perhaps find difficult to share.