London Symphony film première
London Symphony film première
June 5, 2017
Comments Off

on London Symphony film première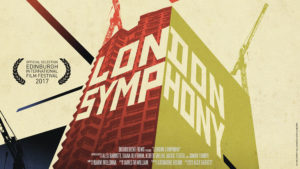 Nearly three years ago we exhorted our dear readers and followers to support a kickstarter project to produce a film that promised a new and unique view of the city we all know and love.
We were delighted when the project hit its funding target, and after nearly three years of filming, editing, and composing (it has its own original score), it will have its London première at The Barbican Centre on Sunday 3rd September (you can purchase tickets here).
It promises to be a wonderful evening; not only will you be among the first to witness this unique new take on London's ongoing story, but also the original score will be performed by a live orchestra and following the screening there will be an open discussion (featuring our own Mark Rowland on the panel).
It's a project we have been proud to support and we eagerly await seeing the result of the London Symphony team's labours (you can see a trailer on the London Symphony homepage).
In the meantime, Mark recently caught up for a chat with Alex Barrett, director, editor and driving force behind the project so he could give us a little taster of what to expect.
MR: Three years in the making Alex, clearly a huge amount of work has gone into it! How do you feel now it's finally made?
AB: I'm definitely relieved to have it finished, but mostly I'm just excited to finally be able to share it with people.
MR: What was the main inspiration behind the making of the film?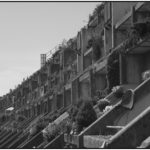 AB: I've long been a fan of the original city symphonies from the 1920s, such as Man with a Movie Camera and Berlin: Symphony of a Great City. In 2009, I made a short cine-poem, Hungerford: Symphony of a London Bridge, as a tribute to those films.
The short film focused solely upon Hungerford Bridge and the Golden Jubilee Footbridges, and I later thought that it might be interesting to make a feature-length version looking at the whole of London. The idea was to explore life in a modern city, and to look at the way modernity is affecting the landscape of historic London. I also felt that, in a time of divisive politics, I wanted to make something that celebrated the cosmopolitan nature of the city and the diversity found within it.
MR: What were your overall expectations for the look, feel and theme of the film before you started filming and to what extent did they change over the course of filming and editing?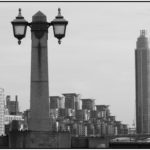 AB: As with Hungerford: Symphony of a London Bridge, we set out to make something that paid tribute to the filmmakers and film style of the 1920s, but without falling into pastiche or parody. I looked a lot at those films, and also at Russian constructivist photography and design, and developed a style guide for the film – but, as the shoot progressed, I think my team and I started thinking less about the style guide and more about how we would naturally frame and respond to our surroundings.
So, really, the films of the 20s were our starting point, but slowly it become more about reinterpreting the form of those films and responding directly to the locations around us.
MR: We guides know that being out and about in London is always full of surprises, what surprises did London have in store for you while you were out and about filming?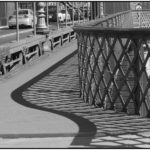 AB: I think, in some ways, the most surprising thing about working on the project was the way that it opened my eyes to the beauty of the city. As a life-long Londoner I knew the city well, but I knew it in the way that one knows familiar surroundings – head down and hurrying through. But working on the project made me look and see things that I'd never seen before (both literally and metaphorically) and discover new facets of the city.
I'd love for audiences to have a similar response to the final film. I've already heard of people who have seen it seeking out and visiting locations from the film that they'd never previously heard of. Which, to me, is wonderful – and exactly the kind of response I was hoping for.
MR: What are your hopes for the film? In particular, where would you like to see it screened?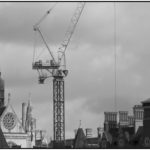 AB: My biggest hope is that people see it! And, of course, that they enjoy it! Making a film is only half the battle – and getting people motivated enough to come along and actually see it is an even bigger challenge. A film like London Symphony really needs people to come out and support it, so I'm hoping that the community nature of the project will appeal to people and encourage them to make the effort.
In terms of screenings, I'm delighted to be launching it at the Barbican, which is already a dream venue. And we also have a number of other equally exciting venues lined up for the release, which we'll be announcing later this summer. They include cinemas and alternative spaces such as a Buddhist mediation centre and a Hindu temple. I'd definitely like to continue to arrange screenings in community spaces like that, as they really represent the heart of what the film is about.
MR: And what next for Alex Barrett?
AB: Good question! I'm not quite out of the woods with London Symphony yet, but I do have several new projects which I'm slowly chipping away it. It's a bit too soon to tell what will be next, but I've been co-writing a script with the Bulgarian filmmaker Andrey Paounov, which will hopefully shoot next year. It's based on a play called January by Yordan Radichkov – and it's something very different from London Symphony!
London Symphony has its London premiere at the Barbican Centre on Sunday 3rd September, tickets available to purchase here.  If you know of (or would like to suggest) an opportunity to screen the film, .
All images © London Symphony Film Company Ltd. 2017