Huntsman and The Kingsman
Huntsman and The Kingsman
September 19, 2017
Comments Off

on Huntsman and The Kingsman
Michael Duncan talks about the role Huntsman of Savile Row plays in the new film Kingsman 2: The Golden Circle You can find out more on Michael's walk "In Search of the real Kingsman – Spies and suits of Savile Row"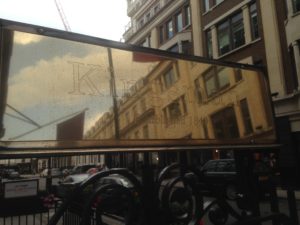 Huntsman is one of the great shops of Savile Row.
In its time it has clothed the likes of Clark Gable, Ronald Reagan, Paul Newman and the great Gregory Peck went to Huntsman for fifty years.
But it has also clad notable women including Hollywood legends Katherine Hepburn, Marlene Dietrich and Elizabeth Taylor (and her often less legendary husbands).
And more recently it made the white tie ensemble for Lord Grantham in Downton Abbey.
Through its doors in 1989 stepped a young chap who had just finished at Stowe School.  His mother thought Huntsman would be the prefect place to get his first bespoke suit, to release him into the adult world properly dressed to face its many challenges.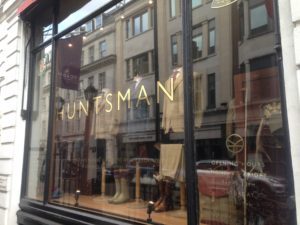 Flash forward to 2014 and that same young man,  Matthew Vaughn is a successful film maker with an impressive C.V. who has just released what was to be his biggest grossing movie to date; Kingsman: the Secret Service.
Kingsman is based on a comic book series originally called  merely "The Secret Service".  Vaughn was inspired by the comics but wanted to give it something extra, so he turned to his favourite tailors "Huntsman" to give it a classy disguise.  "Huntsman" has a starring role in the movie, acting as Kingsman's head office as well as a secret entrance via one of its changing rooms to a network of tunnels which lead ultimately to a country home stuffed full of the usual gadgets and weaponry you'd expect to find at any self-respecting spy organisation.
The film tells the story of the recruitment of a London lad called Gary "Eggsy" Unwin (Taron Eggerton) into a spy organisation.  He meets a lot of resistance from his fellow candidates who view him as a "chav", but he wins through to take on and defeat an evil power-crazed billionaire called Richmond Valentine played by Samuel L Jackson.
It's fantastically produced, has great performances, is utterly ludicrous and brilliant fun.
Now Kingsman 2: The Golden Circle is hitting the screens and the beloved Huntsman, surely one of the world's most beautiful shops, appears to suffer a terrible fate!
In contrast to the drama of the film, Huntsman is thankfully still there.
Stepping inside it feels like a place where nothing can go wrong.  There is a gentle ringing of the bell as you enter. Ahead of you are comfortable sofas and a fireplace framed by two stags heads.
They were left for safekeeping by a customer in 1921 before he headed off for what has always been thought of as a particularly good lunch.  He never returned.
But I wonder if Matthew Vaughn wasn't onto something when he cast Huntsman as the front of his secret service?  Could our mystery customer have been whisked away through one of Huntsman's changing rooms into its underground network of tunnels.  Or perhaps he took on one mission too many.  We'll never know. But in the world of The Kingsman, stranger things have happened.