The "evil-doers" of London
The "evil-doers" of London
October 4, 2017
Comments Off

on The "evil-doers" of London
Continuing our series of Literary Footprints 2017 posts, Mark Rowland delves into the murky world of night walking.  Mark will be running his Dickens After Dark walk on the evenings of Tuesday 10th and Thursday 19th October, booking details are on his walks page.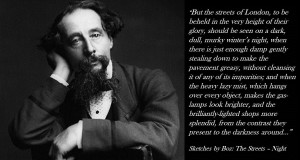 "If you do not want to live with evil-doers, do not live in London"
So said Richard of Devizes in his Chronicle of 1192 which carried this stern warning for those who might be attracted by the bright lights (or whatever qualified as such in medieval England) of our fair capital city, listing his proofs of the "evils of the capital" as:
"Actors, jesters, smooth-skinned lads, Moors, flatterers, pretty boys, effeminates, pederasts, singing-and dancing-girls, quacks, belly dancers, sorceresses, extortioners, night-walkers, magicians, mimes, beggars, buffoons"
Fair enough, you can imagine some of those striking the fear of god into your average medieval traveller, but night walkers?  What exactly did he have against those who liked to take a stroll after everyone else had taken to their bed?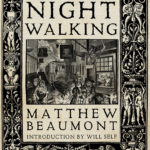 For an in-depth analysis of this particularly London tradition and the reasons it was so frowned upon, I can heartily recommend Matthew Beaumont's excellent book on the subject.
Suffice to say, though, that the night walker has always been seen as something of a maverick, at best setting themselves outside the norms of society and at worst being seen as "up to no good".
So offended by the practice was Edward I that he saw fit to enact a law in the late 13th century declaring it illegal and, whilst it was for much of its life more recognised in the breach, it wasn't in fact repealed until as late as 1824.
Charles Dickens is, of course, prime among London's long and illustrious history of night walkers, but for him it was more born out of pragmatism; he suffered insomnia for much of his life (particularly in the period after his father died in 1851) so he would set out on (sometimes epic) night walks which he saw as a much more useful way of spending a sleepless night.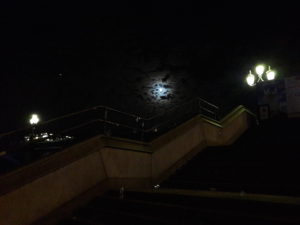 London was his muse (or as he put it, his "magic lantern") and these nocturnal treks allowed him unobserved to turn his own gimlet-eyed  observation on the slumbering city in search of yet more inspiration for his legendary themes and characters.
But there was for him also the more practical purpose of character research. Dickens was, of course, the champion of the underdog in Victorian London and one of the reasons he took to night walking was to impose upon himself a state of "houselessness" to help him empathise better with many of those whose plight he sought to highlight.
He wrote two essays specific to the subject – The Streets – Night (Sketches by Boz, 1832) and Night Walks (The Uncommercial Traveller, 1861) – both of which gave him free rein to share his experiences and unleash his descriptive prose on the subject of London by night: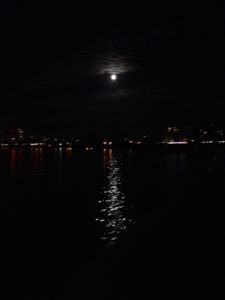 "…but the river had an awful look, the buildings on the banks were muffled in black shrouds, and the reflected lights seemed to originate deep in the water, as if the spectres of suicides were holding them to show where they went down.  The wild moon and clouds were as restless as an evil conscience in a tumbled bed, and the very shadow of the immensity of London seemed to lie oppressively upon the river."
If you ever stroll along one of the quieter stretches of the bank of the Thames at night, particularly in The City of London (as we do on my walk), you will straight away catch Dickens's fascination for doing so. Aside from the relative peace and quiet, it also offers an entirely different perspective on a place you think you know so well.
As the talented East End artist Mary Swan beautifully put it after she had been on the walk:
"The fascination with this river for artists, writers and musicians is legendary and understandable when standing alongside it at night in all its powerful oily-black glory.  The effect upon the psyche can be commanding, disturbing and inspirational all at once."
So why not wrap up warm and join me to follow in Dickens's footsteps? And I promise to do my best to steer you clear of smooth-skinned lads (whatever they might be…) and sorceresses!