Footprints of London is uniquely positioned to meet the particular and exacting demands of tour operators requiring tour guides for large groups visiting London.
We are an association of over 50 guides which offers the required guiding resource to provide comprehensive tour guiding programmes for larger groups of visitors, all planned, managed and implemented through one single point of contact.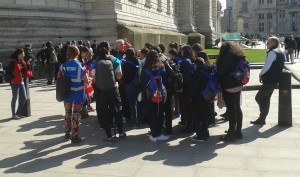 We operate to the highest level of professional guiding standards.  All our guides are accredited through qualification from at least one of the Local London guiding courses and are members of the relevant guiding associations – your guarantee that your guests will not only have an unforgettable experience from guides who know their subject, but will also be taken safely around London's busy streets.
We offer services from programme planning and implementation through to "on the ground" management and, of course, devising and leading the tours themselves.  Whilst our forte is walking tours, we do have a number of guides who are qualified coach guides so we can also offer that service.
Given the breadth and depth of skills and knowledge among our guides we can offer a wide range of tour themes, ranging from standard "show us the sights" tours, through education-based themes for student/school groups (UK and international) to more in-depth tours on specialist subjects and interests.
Want to know more?  You can check our tripadvisor page for reviews from happy customers or for more detail or if you wish to discuss a specific programme.
We look forward to hearing from you!
Case Study: Oxford International Education Group Easter 2015 BEO and WEE programme

Oxford International Educational Group (OIEG) is one of the world's leading educational travel tour operators.  The British English Olympics (BEO) and World English Experience (WEE) are two of their major annual international English language programmes which culminate in a two-week trip to London during the Easter holidays for the leading school/college teams competing in the programme.
Brief
Provide guided walking tours in English over six days to the nearly 2600 international (mainly Latin American) students (core age range 12-16 y/o) attending their Easter programme

Tours to take in key sights around Whitehall

All tours to experience the same content – create an "exactly similar" experience for all
Implementation
Daily schedule devised 2 months in advance in conjunction with OIEG Operations Co-ordinator to fit with overall group schedules

Individual named guides pre-allocated to all tours (106 in total) over each of the six days

Walk route designed to accommodate maximum number of groups on it at any given time (a circular Whitehall route with groups departing in opposite directions every 15 minutes)

Standardised content created and briefed to all participating guides
Outcome
106 guided walks for nearly 2600 students over 6 days delivered successfully

Client received a stream of positive feedback (both from students and accompanying teachers) in terms of guides' enthusiasm, professionalism and knowledge and on the overall level of organisation

Happy students and a happy client!