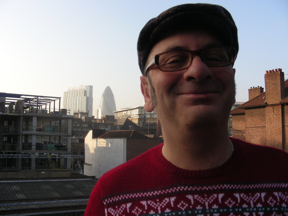 Contact 07812 115 365 or mail adrian.clarke@footprintsoflondon.com
Adrian is a member of the Clerkenwell & Islington Guides Association.
Adrian Clarke has lived and worked in London for nearly 30 years, since moving to Wapping as a teenager in the early 1980s.   Currently living just off of Brick Lane, he has a longstanding interest in the East End of London, and in particular Spitalfields and the Docklands.   This part of the East End has a rich and dramatic history with many stories to tell, and is today one of the most exciting areas in the whole of London.   From Riverside pubs hundreds of years old to the best curry restaurants in Brick Lane, from  atmospheric  18th Century  Huguenot houses to the vibrant markets and hip shops  of today, let Adrian be your guide to this fascinating area.
Adrian is a friend of Wilton's Music hall.