Amber The American Tour Guide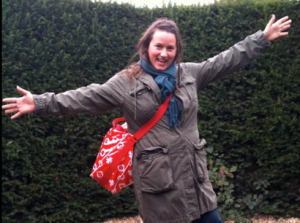 E-mail amber@footprintsoflondon.com
Don't let the Texas accent fool you — this lady knows her stuff!
Amber has called London home for 16 years and is a qualified badge guide. She cut her teeth in guiding on the Big Bus back in 2002/2003 while earning her MBA in International Marketing. In addition to giving walks with Footprints of London, she has her own website American Tour Guide In London where you can find her at Changing of the Guard, on the rooftops of London or having tea with the Dowager Countess— all in costume, naturally!
Her background is marketing and social media, but when the rat race became exhausting and the recession hit, she returned to her passion for tour guiding. In 2010, she officially started providing walking tours and private guiding to clients full-time. "I love it when Londoners tell me I know more about their city than they do. It's kinda funny, but you rarely explore your own town, and why not see it through the eyes of a non-native!"
• City of London Badge: In 2012, she qualified as a City of London guide and was granted Freedom of the City the same year. She is a member of the City of London Guide Lecturers Association, served on the board in various roles, and ran their Local London Guiding Day activity for three years.
• City of Westminster Badge: In 2013, she earned her City of Westminster badge, is a member of the City of Westminster Guide Lecturers Association, and has contributed to their online magazine.
• Camden Badge: She is also one of the founder members of the Camden Tour Guide Association, designed the logo and badge for that organisation, and contributes to their marketing and social media on top of guiding around Camden, Bloomsbury and Regent's Canal.
Amber's love of churches has led her to take the Southwark Cathedral guiding course, serve as a volunteer Church Watcher and social media consultant for Friends of City Churches, and work with St. Andrew by the Wardrobe on a series of lunchtime music concerts. Her walk "Churches, Corners & Corridors" is a fascinating look at architecture and the stories behind the saints who give their names to these amazing buildings. She has belted out the main verse of Amazing Grace in all of the City  Churches! ("It's a great way to test the amazing Wren acoustics!")
Her tours are unique in that she is a dynamic presenter who wants to bring history to life. "You may not remember all the dates and facts, but you'll remember a good story and I try to present history in a way that leaves you with some knowledge as well as a memorable experience. All factual of course!" Her walks include:
An American Walk through London – highlighting many American connections in The City of London including historical figures, events and locations
Churches, Corners and Carols – a tour through the City to discover churches, down narrow passages and with a carol or hymn thrown in for good measure
Duke of York – learn the importance of having an heir and a spare!
Finding Bridget Jones – candy cigarettes and diary in hand, this is a fun tour!
Life & Times of Jane Austen's Emma – discover the character that only Austen would like!
People of the City – discovering historical characters that added life to the streets and surroundings
Client feedback:
"Great walk last night, which ended in a convivial fashion at the Hoop and Grapes. Amber designed a walk with a remarkable turnout of characters, ranging from an unforgettable pirate's wife, two crutched friars, a music hall singer, Geoffrey Chaucer's wife to the man who introduced Bank Holidays. Thank you so much for arranging it and for the linking commentary delivered in rhyming couplets!" PT
"Amber is a star! She's the teacher you never had, the friend you always wanted. Her passion for London is unquestionable and she was quick to make sure that all our questions were answered. We were fully entertained and can't wait to come back to London, and to see her again!" DF
Follow her on Twitter @AmericanLDN
Like her on facebook.com/AmericanLDN
Instagram @AmericanLDN
Also visit www.americantourguideinlondon.com
Walks currently on Footprints of London:
Amber The American Tour Guide (guide details)